Our Driverless Futures: Community Forums on Automated Mobility
Program Areas – Responsible Innovation, Complex Socio-technical Systems
As they move from test tracks to city streets, automated vehicles promise to revolutionize mobility and transform communities in ways large and small. Will members of the public help drive this transformation? Planning for this driverless revolution requires meaningful engagement with the public to gain insight into individuals' hopes and concerns when it comes to future mobility. Improved understanding of public perspectives and values enables decision makers to develop robust strategies for dealing with both the anticipated and unexpected outcomes of this rapidly emerging technology.
To provide a platform for community members to engage with decision makers about driverless vehicles, the Consortium for Science, Policy & Outcomes (CSPO) at Arizona State University and the Paris-based Missions Publiques launched an unprecedented program of public consultation. Our Driverless Futures is part of an international collaboration led by Missions Publiques to bring together the voices of hundreds of individuals in public forums across cities in North America, Europe, and Asia. Informed, deliberative, and neutral, these forums are generating critical information for decision makers to prepare for the future of driverless mobility. Our Driverless Futures builds on previous project work sponsored by the Kettering Foundation aimed at understanding the public's top priorities with respect to automated vehicles.
In the United States, CSPO is partnering with universities, local governments, federal agencies, and philanthropies to engage with members of the public and address issues of relevance for cities across the country. The initial public consultations in the United States took place in Boston, MA; Washington, DC; Phoenix, AZ; and Buffalo, NY in Summer 2019. The four consultations brought together over 300 individuals who represented cross-sections of their local communities. In all three locations, the rooms were filled with engaging discussions and incredible energy throughout the day.
Based on the success of these initial forums, CSPO is also collaborating with local transportation planners in other US cities to host additional consultations to maximize the impact of this global project.
Will you join us?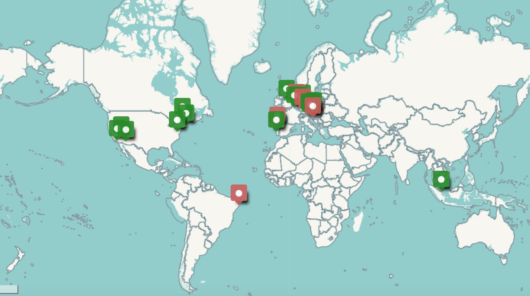 Project Timeline
2017 – 2018
Pilots & Partner Outreach
Pilot forums and stakeholder outreach to build a coalition of partners representing philanthropy, industry, and government to provide funding, influence program strategy, and provide guidance for forum design, analysis, and reporting.
SPRING 2018
Design & Development
Expert-stakeholder workshops in Washington and Paris to design and develop forum themes, content, questions, and locations.
SUMMER 2019
Initial Public Forums
Hundred-person, day-long public forums hosted in Washington, Boston, Phoenix, Buffalo, and Montreal, along with forums in Europe and Asia.
FALL 2019
Results & Integration
Expert-stakeholder workshops in Washington and Paris to review preliminary results from the forums, identify issues and topics for analysis, and develop a targeted dissemination strategy.
Additional Public Forums
Building upon the success of the initial forums to host additional consultations in other US cities, bringing in different types of cities and diverse voices.
For more information contact:
Mahmud Farooque, PhD
Associate Director, Consortium for Science, Policy & Outcomes
(202) 446-0397, [email protected]
Leah Kaplan
Program Specialist, Consortium for Science, Policy & Outcomes
(202) 601-4323, [email protected]
Meet the Project Team
Principal Investigators
Additional Team Members