News Flashes – March 2016
March, 2016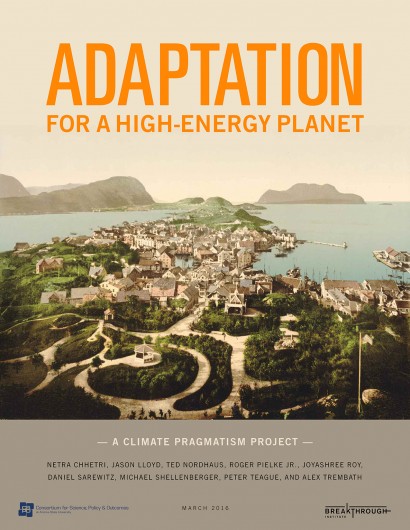 CSPO and SFIS faculty collaborate on highly anticipated report
The third and final report in the Climate Pragmatism series was released on March 28th. Adaptation for a High Energy Planet is the product of many contributors, among them SFIS professor Netra Chhetri, CSPO program manager Jason Lloyd, and CSPO co-director Daniel Sarewitz. You can read the ASU News' article on the report, and the previous two reports can be viewed at the following links:
---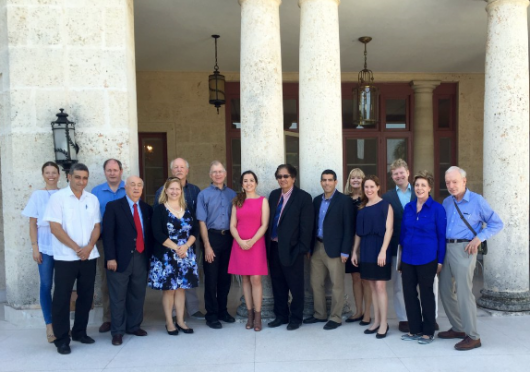 Building science relationships in Cuba
ASU researchers made an historic visit to Cuba in early March with the goal of demonstrating genuine commitment to sharing knowledge and building relationships. SFIS Assistant Research Professor Maria Gual Soler (pictured center above) was among the group of 12 that participated in the 6-day excursion. She described the atmosphere for scientific relations following the reopening of diplomatic relations as "very optimistic." The exchange, Soler says, benefits the US as much as it does Cuba: "Cuba has developed a very good warning system and response to tropical hurricanes, and this is something the U.S. can learn from." The trip is counted a success, having initiated the process of bringing Havana into an ASU-led investigative project looking at how cities bounce back from extreme weather events and establishing ties between ASU and Sergio Pastrana, foreign secretary of the Academy of Sciences of Cuba. President Barack Obama's visit on the 20th, which made him the first sitting president in 88 years to visit Cuba, emphasizes Soler and her fellows' sense that the atmosphere for exchange is rapidly improving.
---
ASU professor honored at White House Water Summit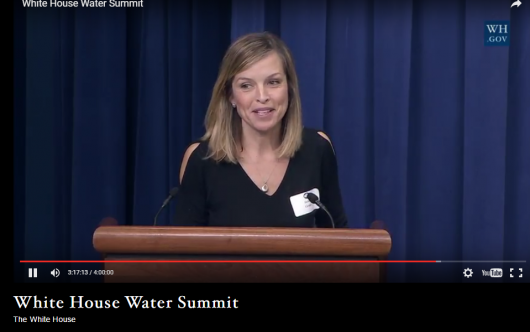 On Tuesday, March 22nd, CSPO's Center for Engagement & Training in Science & Society's (CENTSS) affiliated research organization, SciStarter, was recognized at the White House Water Summit, World Water Day. SciStarter, led by SFIS Professor of Practice Darlene Cavalier, has worked hard to expand the network and impact of citizen scientists, training over 40 teams nationwide to take soil-moisture measurements to verify NASA data. More than 60 teams will receive the same training in the next eighteen months. The White House will also be acknowledging SciStarter's plans to launch pilot programs in Atlanta, Philadelphia, and Tempe/Phoenix to provide training and equipment on loan to support volunteer soil-moisture monitoring – programs intended to lead the way to regional lending library networks across the country. You can read the White House Fact sheet and view the entire video from the summit by following this link (Cavalier appears at 3:20:00). The event was also covered by ASU News.
---
Events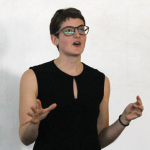 CSPO hosted Sarah Davies, a Marie Curie Research Fellow and Assistant Professor at the University of Copenhagen in Denmark.. Davies presented a talk as part of CSPO's EnLIGHTeNING Lunch series on Wednesday, March 16, discussing the maker movement, and the increasing popularity of hacker, maker, and DIY Bio spaces.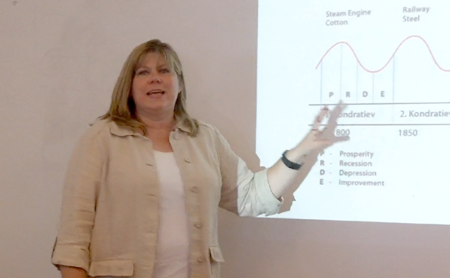 Deborah Strumsky, Assistant Research Professor for ASU-SFI Center for Biosocial Complex Systems, conducted a Breakfast Seminar at CSPO's Washington D.C. location on Friday, March 11. During the seminar, titled Different Technologies, Different Learning Rates,
Strumsky discussed recent work that provided insights on learning rates differences across technologies, the extent to which policies are able to accelerate or influence them, and the implications of her research for policies related to mitigating climate change. Video of the seminar can be viewed by following this link.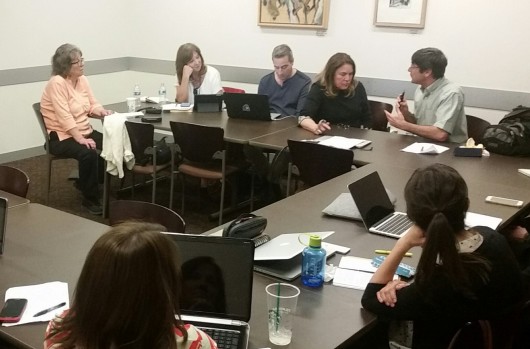 Richard Harris (top right – demonstrating interview techniques) is a visiting scholar with CSPO during a temporary leave from National Public Radio where he is a Science Correspondent. He recently conducted two workshops at the Tempe campus on podcasting methods and techniques.
---
Out & About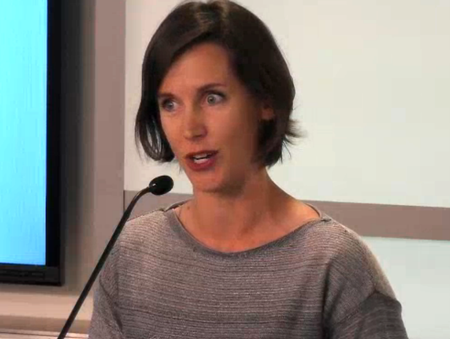 On Thursday, March 24, Future Tense, New America, and SFIS hosted an event in Washington, D.C., on incubating artificial intelligence. CSPO Affiliate Jamie Winterton moderated a panel discussion on Incubating Artificial intelligence: Regulating Intelligent Cars and Drones in the 21st Century. Video of the event can be streamed here and Future Tense's coverage of the event can be viewed here.
On Thursday, March 24, The Lincoln Center for Applied Ethics held a panel at the Marston Theater to discuss the Practices of Global Ethics: Historical Developments, Current Issues and Contemporary Prospects. Clark Miller, SFIS professor and CSPO associate director, and a Lincoln Fellow, was on the panel.
SFIS professor and CSI's resident futurist Brian David Johnson hosted a town hall meeting at Iowa State University. The town hall meeting is part of a yearlong study of the future of the American dream timed to overlap with the 2016 presidential campaign. In his future-casting work, Johnson uses ethnographic field studies, technology research, cultural history, trend data, global interviews and even science fiction to provide a pragmatic roadmap of the future.
---
Media Mentions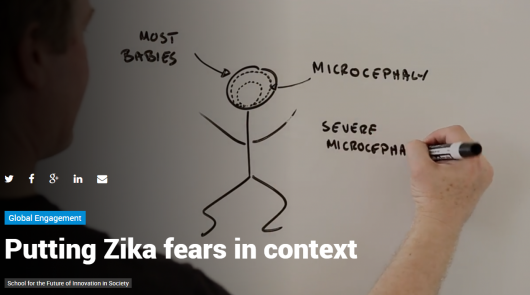 A recent video from SFIS professor and Risk Innovation Lab director Andrew Maynard regarding the Zika virus was the subject of an article in ASU News. "We wanted this one to be useful to people directly grappling with the threats of Zika and microcephaly, I wanted to make sure that it was accessible to as many affected people as possible," said Maynard, commenting on the fact that this was the first of his videos available in multiple languages. "In situations like this, it's important to realize that even though there's a lot that's not known, a risk that you have some understanding of is easier to deal with than one that you are completely in the dark over." The videos were also mentioned in an article posted to George Washington University's "Public Health" webpage.
SFIS Professor of Practice Darlene Cavalier became the first advocate interviewed by ScienceMerged, a movement aimed at breaking down barriers between branches and disciplines of science and education. Darlene was selected in large part because she is the founder of SciStarter and Science Cheerleader, which follows and supports former NFL and NBA cheerleaders pursuing careers in STEM. "By highlighting female scientists who are also cheerleaders, we also talk about our dual careers," says Cavalier. "We remind people what they already know about themselves: nobody is 100% anything."
SFIS Futurist in Residence Brian David Johnson was interviewed for the NPR report "What if we had a Secretary of the Future," which suggests that the US cabinet adopt the corporate practice of hiring executive futurists. Reflecting on his time at Intel, Johnson said, "It was my job to be the crazy one, to be the grit in the system … to come in and present a future that really wasn't quite rosy because the company needed to be prepared for that."
In an ASU News interview, CSPO affiliate and Director of Strategic Research Initiatives at ASU's Global Security Initiative, Jamie Winterton, addressed the issues behind Apple's refusal to unlock an iphone that belonged to one of the shooters that perpetrated the December attack in San Bernardino. "Once encryption is compromised, any guarantees of security are lost," Winteron warned. "If a door is improperly secured, it can be used by your grandmother, or it can be used by Kim Jong Un."

Risk Bites, SFIS professor and director of the Risk Innovation Lab Andrew Maynard's YouTube channel, has collaborated with another channel, ACS Reactions, on two videos addressing peanut allergies that have just been released. The videos reveal that the tripling of peanut allergies in the US in the last two decades has likely been caused, ironically, by mistaken but understandable protective reactions. The videos can be viewed by following these links:
Publications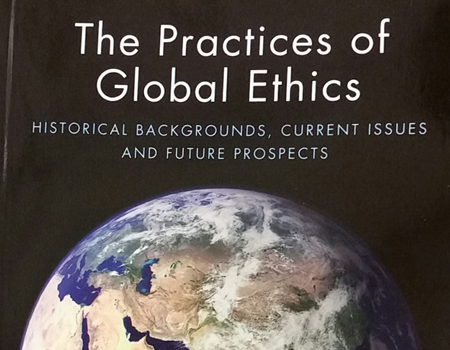 "The Practices of Global Ethics," co-authored by SFIS director Clark Miller, has been published by Edinburgh University Press and is now available for purchase. The book "examines diverse expressions of global ethics as social practices developed in response to global crises … for those who seek to understand and make a difference with respect to global ethical issues."
Bird, Frederick, Twiss, Sumner B., Pedersen, Kusumita, Miller, Clark A. and Bruce, Grelle. 2016. The Practices of Global Ethics. Ediburgh University Press.
Andrew Maynard, SFIS faculty and Director of the Risk Innovation Lab, argues for a greater emphasis on serving the community in American universities in a new post on the Conversation. Maynard insists that crises like that involving the water in Flint, Michigan underscore the university's role as community advocate "because, for every Flint, there are thousands of other communities that you and I have never heard of, and maybe never will, but that still need all the help they can get."
Bob Beard, Communication and Public Engagement Strategist with ASU's Center for Science and the Imagination, authored an article for CSPO's As We Now Think blog: "Teaching Bioethics With Pool Noodles," related to an activity at the recent Night of the Open Door at ASU's Tempe Campus on February 27, 2016. On the one hand, the experiment was a fun arts and crafts activity for young attendees. On the other, the participants displayed signs of responsible innovation and empathy for their creations.
In "Navigating the Risk Landscape," an article in Nature, SFIS professor and Risk Innovation Lab director Andrew Maynard unpacks the potential risks that arise with the evolution of nanotechnology. Because these risks "can often appear complex and confusing," Maynard provides some useful "guideposts to help researchers plot a sensible course" based on his fifteen years of experience in the field.
CSPO Professor of Practice Gregg Pascal Zachary authored "Celebrating Claude Shannon" for IEEE Spectrum. Though many regard Shannon as the "Father of the Information Age," Zachary emphasizes Shannon's significance as living proof that "engineering creates new knowledge as readily as science does."
"We don't talk much about nanotechnology risks anymore, but that doesn't mean they're gone" by Risk innovation Lab director and SFIS professor Andrew Maynard, an article posted on The Conversation considers the lack of concern with potential health risks of a new nanotube-based pigment called Vantablack S-VIS. Pointing out that consideration was common as recently as 2008, Maynard suggests that, "nanotechnology safety isn't hitting the public radar because journalists and other commentators just don't realize they should shining a spotlight on it." The article was posted on the Huffington Post and Future Tense and Maynard shared a related video on his Risk Bites youtube channel.
HSD student Eric Kennedy reviewed The Climate Resilient Organization: Adaptation and Resilience to Climate Change and Weather Extremes by Martina K. Linnenluecke and Andrew Griffiths for Oxford Journals.
"Can a 3-Minute Video Influence Consumers' Ingredient Safety Perceptions," SFIS Postdoct Keri Szejda's post on Cris Bits, Michigan State's ingredient safety blog, concludes that "risk messages should be carefully crafted with consideration of a range of potential outcomes."
SFIS professor and Risk Innovation Lab director Andrew Maynard posted an article on the safety of BPA, a controversial substance found in some plastics, on Michigan State's ingredient safety blog, Cris Bits.
CSPO affiliate Ben Minteer's Slate article, "The Real Zootopia," takes a fair but critical look at a 300-acre expansion of Denmark's Givskud Zoo.
Netra Chhetri, Jason Lloyd, Ted Nordhaus, Roger A. Pielke Jr., Roy Joyashree, and Daniel Sarewitz. March, 2016. "Adaptation for a High-Energy Planet." Consortium for Science, Policy & Outcomes and The Breakthrough Institute, Washington, DC.