News Flashes – April 2016
April, 2016

Sports of Tomorrow at Emerge 2016
SFIS hosted Emerge 2016 – The Future of Sport, 2040, on April 29 in ASU's Wells Fargo Arena. Sponsored by an interdisciplinary collection of ASU colleges and schools – including Sun Devil Athletics, the W.P. Carey School of Business, the Ira A. Fulton Schools of Engineering, and the Biodesign Institute, as well as the Office of the President – Emerge filled the arena with twenty athletic, artistic and scientific "visitations from the future" featuring theater, improvisation, interactive experiences, design prototypes, & multimedia performances. The visitations not only performed the intellectual fusion that is a signature of the New American University for roughly 3800 attendees, but five of the visitations gathered research data, and more than 100,000 unique individuals watched the e-Sport contest streaming live on Twitch! AZCentral provided coverage, Fashion and Mash highlighted Emerge's visions of future sportswear, and Allysa Seely, a paratriathlete, was a guest on 12 news, where she spoke about how advances in technology benefit disabled athletes. To view photos of the event, visit SFIS's new Gallery section, and check out the brief video retrospective of the event.
Sponsors
School for the Future of Innovation in Society
Sun Devils
Ira A. Fulton Schools of Engineering
W.P. Carey School of Business
Biodesign Institute
Herberger Institute for Design and the Arts
Consortium for Science, Policy & Outcomes
Center for Science & the Imagination
ASU Office of the President
College of Liberal Arts & Sciences
Sandra Day O'Connor College of Law
School of Earth & Space Exploration
Trinity Works
Julie Ann Wrigley Global Institute of Sustainability
ASU Polytechnic Campus
Partners
The Center for Nanotechnology in Society
Ability 360 Sport & Fitness Center
Label Horde
Twitch
Excel Sports
Endgame
Navigate
ASU Gammage
Arizona Storytellers
Phoenix Mercury
Arizona Rattlers
ASU Center for Organization Research and Design
Whole Foods Market
Paradox Sports
---
X Marks the Future
The four-part conversation series, the "Future of X" sponsored by SFIS along with Barrett Honors College, kicked off February 15 at the Barrett Theater in the Vista del Sol Community Center and concluded on April 11th. Geared toward students and led by pairs of SFIS faculty or affiliates, the series featured "conversations about the futures we want to create" and provided a forum for informal presentation followed by questions and discussion with audience members. Visit the SFIS website's new Gallery to view these and other multimedia from projects and events or click on the links below to directly link to video recordings.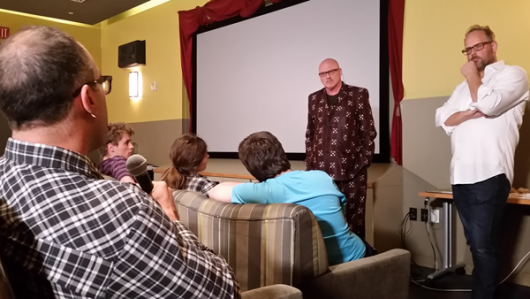 SFIS's Gregg Pascal Zachary and SHPRS assistant professor Gaymon Bennett spoke together about the Future of Consciousness. Pointing out that consciousness has changed over the course of human history as the result of diet, activity, and technology, the speakers noted that whether in the form of "brain-pills," artificial intelligence, or digital technology, science and technology are poised to transform the future of the human experience into a form some are already calling "superconsciousness."
In the second of the four part SFIS sponsored "Future of X" discussion series, faculty member Kiki Jenkins and affiliate Leah Gerber gave a presentation on the Future of Oceans on February 29. The two described the way that climate change alters the ocean's composition, acidity, and temperature while emphasizing the environmental, ethical and moral price of humanity's consumption of fish.
For the Future of Life presentation on March 14, Karmella Haynes and Emma Frow of the School of Biological and Health Systems Engineering spoke on the burgeoning field and applicability of synthetic biology, its relationship to biological engineering, and how we can make sense of evolutionary forces in order to reprogram them.
Finally, SFIS HSD student Miles Brundage and Subbarao Kambhampati from the Department of Computer Science and Engineering spoke of the Future of Artificial Intelligence. They assuaged fears of a Matrix-like robot revolution any time soon, anticipated rising unemployment as jobs became increasingly performed by AI agents, and advocated aiming for "robustness" on research regarding tech forecasting and organizing clear chains of legal responsibility.
---
Think Write Publish Accepting Applications for Fellowship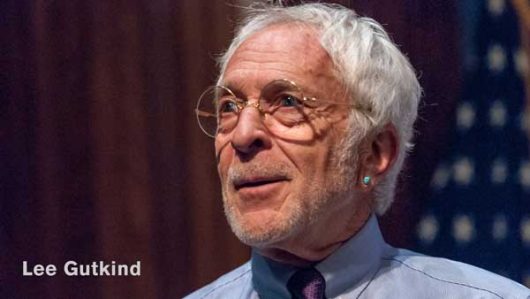 Think Write Publish, a project of SFIS and CSPO led by PI's Dan Sarewitz and Lee Gutkind, is accepting applications for its Think Write Publish Fellowship focused on exploring the harmonies between science and religion. Twelve non-residential narrative writing fellowships are available for two years. Fellows will attend three all-expenses-paid writing workshops, have access to dedicated mentors and editorial support, and receive exposure of their work at five events at science museums in North America and publishing opportunities as well as a $10,000 honorarium. The deadline for applications is May 15.
---
Events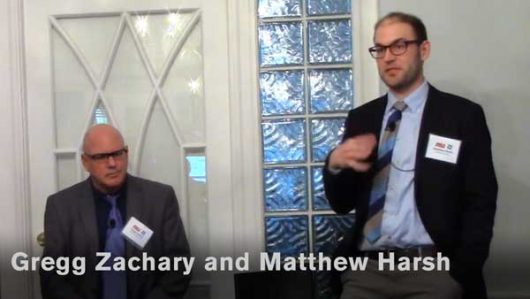 At Innovation in Higher Education – Africa's Turn, a CSPO seminar held at ASU's Washington Center, SFIS's Gregg Pascal Zachary and former CNS Postdoctoral Research Associate Matthew Harsh presented findings on innovations in higher education that augur well for workforce development, economic growth, and rewarding individual careers. Harsh and Zachary's discussion led to an animated Q&A session with questions and comments directing the conversation toward topics as wide-ranging as gender and class, investment gaps, and the potential of online learning. Watch video.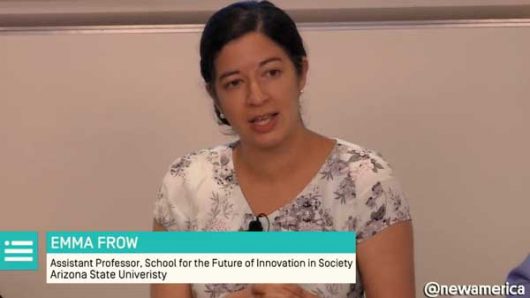 On April 21 in Washington, D.C., Future Tense — a partnership of Slate, New America, and ASU — hosted Trust but Verify, to discuss the crisis of low rates of reproducibility in biomedical research. The conversations featured scientists, researchers (including SFIS' Emma Frow), and journalists (including CSPO's Richard Harris), who are addressing the problem in diverse ways. View video.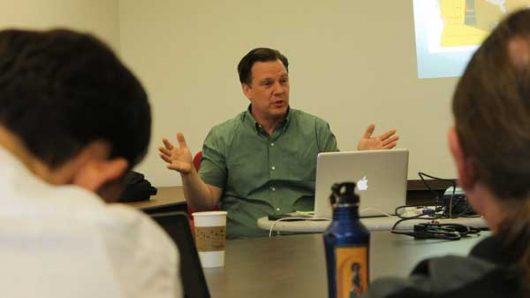 In a talk on April 19 Greg Poelzer from the University of Saskatchewan presented his ideas on the development of renewable energy through partnerships with First Nations and other Indigenous peoples.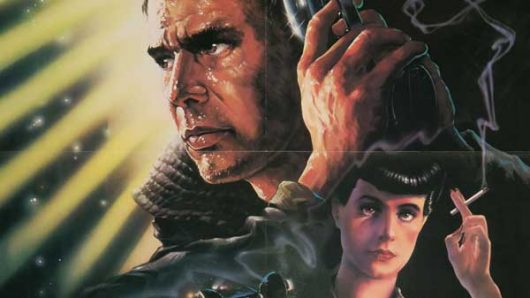 As part of the Future in Film series, a screening of Blade Runner was hosted on the West Campus with discussion on the film's dystopian vision of the near future led by SFIS affiliate Greg Wise, Director of the MA in Social Technologies, and SFIS professor Mary Jane Parmentier.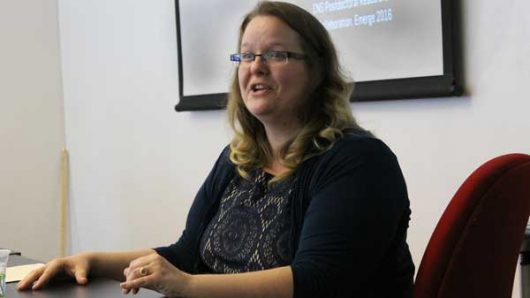 Post doctoral scholar Hannah Rogers spoke at the latest, and this semester's last, of SFIS's enLIGHTeNING lunch seminar. Rogers, a published poet, discussed the intent, future, and politics of bioart, the use of living materials for artistic expression. The point of bioart, Rogers believes and pieces like tiny wings 3D printed with pig cells demonstrate, is to serve as a commentary on the promise of science.
_______________________
Telpriore Tucker was the featured speaker at the April 6 enLIGHTeNING Lunch with a presentation titled "Electric Bikes: Ride into the Future of Electrified Transportation."
_______________________
At the Energy & Society Symposium held in McCord Hall on April 28, SFIS graduate students had the opportunity to present their research focused on how energy systems are already changing, how they are likely to change in the future, and with what implications for diverse groups in society. Presentations included:
Jason O'Leary – Solar Housing: How Solar Financing Models Impact Housing Resale Markets
Carlo Altamirano-Allende – The Social Value of Wind Energy in Southern Mexico
Tess Doezema – Imagining Commodification of Future Knowledge Systems: Brazilian Biofuels Researchers in the Bioeconomy
Abraham Tidwell – Securing Energy, Securing Freedom: Reconsidering the Genealogy of Energy Security in American Policy
---
Out & About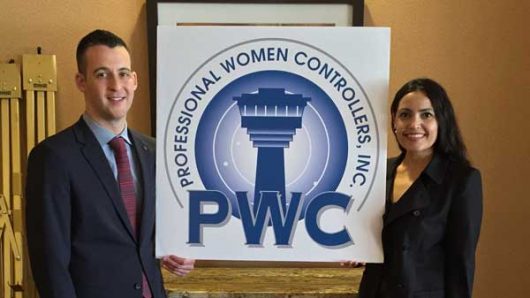 Representing SFIS, Michael Zirulnik (left) offered two workshops at the 38th annual Professional Women Controllers Conference, an Association of Air Traffic Control Specialists. The workshops titled, "Demystifying the Difficult Conversation" focused on the challenges of interpersonal conflict when working in high-stress, demanding sectors such as Air Traffic Control while accounting for diversity of interpersonal communication in the workforce.
Also representing ASU at other conference venues was Dr. Mary Niemczyk, Chair of Aviation Programs and Dr. Sara Tracy, professor in the Hugh Downs School of Human Communication. Among the many influential policy figures attending the conference, were Patricia Gilbert, Executive Vice President of the National Air Traffic Controllers Association and Ravi Chaudary, FAA Executive Director for Regions and Center Operations.
 (Photo from Hannah Rogers)
Hannah Rogers led a workshop that brought together a diverse group of students to write cheers for an AI cheerleader in preparation for a "visitation" at Emerge 2016.
---
Media Mentions
Jameson Wetmore, an associate director within ASU's Center for Nanotechnology in Society (CNS), will facilitate the National Nanotechnology Coordinated Infrastructure (NNCI) societal and ethical implications programs. The NNCI's purpose is to train a globally competitive nanotech workforce and to educate the public on nanotech-related innovations and issues.
_______________________
As a guest on The Gist podcast, SFIS futurist Brian David Johnson talks about how he models what it will feel like to live in the future, science fiction, cybersecurity, and the future of the American Dream — something some people feel is dead or irrelevant but others firmly believe in as a force that drives and defines us today.
_______________________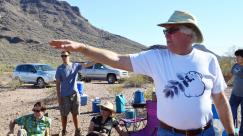 CSPO & SFIS affiliate Andrew Smith was featured in an ASU Now article about his last field trip to the Big Horn Mountains before he retires. A President's Professor and Parents Association Professor in the School of Life Sciences, Smith is retiring after 40 years of teaching.
_______________________
SFIS Professor of Practice Darlene Cavalier is featured in this story about Science Cheerleaders, an organization she founded. Representatives of the group attended the USA Science and Engineering Festival in Washington on April 16 and 17. The article sketches the origins of Science Cheerleader and profiles some of its members.
_______________________
Daniel Sarewitz, CSPO's co-director, was quoted in the Climate Central article, "This is How Surfers are Helping Fund Climate Science." The article deals with the World Surf League's new partnership with Columbia University's Center for Climate and Life and its funding goals for policy-influencing ocean research.
---
Awards
CSPO distinguished writer in residence Lee Gutkind's edited anthology, "True Stories Well Told: From the First Twenty Years of Creative Nonfiction," co-edited by Hattie Fletcher, won a silver medal in the creative nonfiction category in the Independent Publisher Book Awards competition.
Publications
SFIS professor of practice Gregg Pascal Zachary published "Why Germany's Commitment to Diversity Is About to Face a Major Test," an article for Alternet. The article praises Germany and Chancellor Merkel's commitment to aiding Syrian refugees while noting the transformation of a nation bent on ethnic and racial purity to one that favors diversity. "The question is," Zachary writes, "how can Germany absorb and integrate so many foreigners without creating future enclaves, clusters or ghettos of "aggrieved" minority groups?"
SFIS' Cynthia Selin coauthored "Unseasonal Fashion: A Manifesto", an essay which unpacks the way "recent fashion trends resonate with a cultural unconscious of a looming environmental disaster." The essay will appear in the upcoming The following essay will appear in the upcoming book Climates: Architecture and the Planetary Imaginary.
Andrea Saltelli, one of the authors of CSPO's new The Rightful Place of Science: Science on the Verge, wrote a ISSC blog post addressing a potential crisis in science related to flagging trust in scientific peer review. Science on the Verge presents a goal to "argue that it is time to wake up to the severity of the malaise affecting science, try to understand its extent, assess its implications, penetrate into its root causes and propose a constructive way forward."
Stevienna de Saille co-authored "Innovation for a steady state: a case for responsible stagnation," an article appearing in Economy and Society. De Saille attended the 2015 CSPO-CNS Winter School. She is now a Research Fellow in Policy, Evidence and Democracy at the Sir Bernard Crick Centre for the Public Understanding of Politics at the University of Sheffield, UK.