Winter 2018 Issues in Science and Technology
What role is there for policy expertise when evidence, facts, consistency, and honesty seem increasing neglected in Washington, DC's political circus?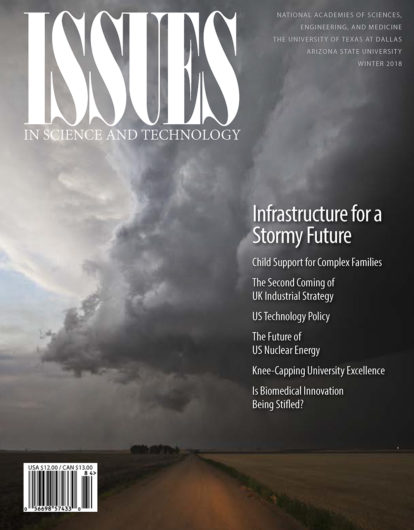 The storm clouds photographed by Camille Seaman on the cover of the Winter 2018 Issues in Science and Technology reflect our turbulent moment in national politics and policymaking. As Kevin Finneran asks in his Editor's Journal, "What role is there for policy wonkery and expert advice when evidence, facts, intellectual consistency, and honesty are decomposing on the compost heap?" Fortunately, even as the political discourse has devolved into cable-news shouting, most experts remain committed to addressing national challenges with thoughtful and pragmatic approaches. We are pleased to feature several of them in this issue.
The US economy is healthy, but Gregory Tassey ("Make America Great Again") warns that to maintain economic growth, the United States must invest in research, technology development, worker training, and modern technological infrastructure. Part of this high-tech infrastructure is the energy system, including the US nuclear fleet. But six decades into the civilian nuclear age, argue Steven E. Aumeier and Todd Allen ("How to Reinvigorate US Commercial Nuclear Energy"), the country must decide whether it wants to reestablish leadership in this important technology market, or watch its role continue to erode in the face of global competition. Investing in US infrastructure of all kinds will help protect it from unprecedented events. Thaddeus R. Miller, Mikhail Chester, and Tischa A. Muñoz-Erickson ("Rethinking Infrastructure in an Era of Unprecedented Weather Events") find that a more integrated and systemic approach is needed to ensure the resilience of US infrastructure in the face of a changing climate.
Across the pond, Richard Jones ("The Second Coming of UK Industrial Policy") looks at ways to bring back industrial policy in the United Kingdom. Industrial policy was dismantled by the government of Margaret Thatcher as the British state retreated from direct sponsorship of technological innovation. Now the country has to rebuild a public innovation system appropriate for its current challenges.
The United States, too, must strengthen its innovation systems. Jenn Gustetic ("Scaling Up Policy Innovations in the Federal Government") applies lessons from her government work to scale-up policy innovations in the federal government. Albert N. Link, Robert S. Danziger, and John T. Scott ask, "Is the Bayh-Dole Act stifling biomedical innovation?" And the president of Johns Hopkins University, Ronald J. Daniels ("Knee-Capping Excellence"), examines what effect the budget cuts proposed by the Trump administration could have on university-led innovation.
Elsewhere in the issue, Kathryn Edin, who delivered the 2017 Henry and Bryna David Lecture at the National Academies, addresses "Child Support in the Age of Complex Families." Government efforts to engage noncustodial fathers in supporting their children should take advantage of the reality that these dads care more about their offspring than is commonly assumed. Also upending conventional wisdom is Charles Herrick, who finds that, in contrast to the Trump administration's allegations of "President Obama's War on Coal," king coal has been under the gradual assault of energy and environmental innovation and policy for nearly a century. And in our philosopher's corner, Adam Briggle ("Make Science Great Again") argues that we need to move beyond fighting over facts to address policy goals and the values and visions that justify them.
In the book review section, Jessica Cussins reviews The Gene Machine, journalist Bonnie Rochman's exploration of genetic technologies and how they are reshaping human reproduction. Neil Chilson assesses strategies for online privacy in Finn Brunton and Helen Nissenbaum's Obfuscation: A User's Guide to for Privacy and Protest. Our changing relationship to the things we purchase is the subject of Lydia Pallas Loren's review of Aaron Perzanowski and Jason Schultz's The End of Ownership. Finally, in his review of Follow the Money by Henry Bourne and Eric Vermillion, Gilbert S. Omenn takes a closer look at how biomedical innovation is funded at large research universities.