Winter 2017 Issues in Science and Technology
The newest "Issues" explores clean energy transitions, the perils of science journalism, infrastructure and democracy, and more.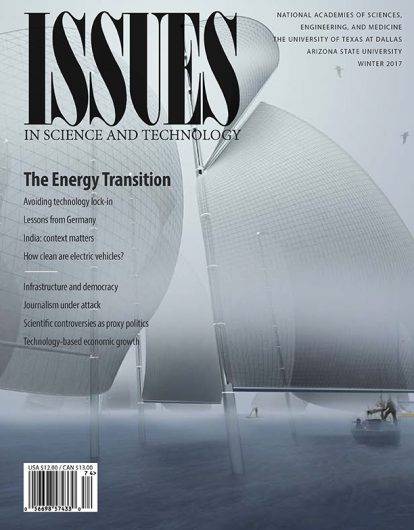 The Winter 2017 Issues in Science and Technology explores the transition from fossil fuels to a cleaner global energy system. The Council on Foreign Relations' Varun Sivaram addresses the perils of locking in existing clean energy technologies at the expense of innovative alternatives. He offers a plan to transform lock-in barriers into bridges for next-generation energy technologies. Christine Sturm, a former executive in the German utility industry, examines the complexities of Germany's transformation of its energy sector, the Energiewende, and why the country isn't on track to meet its ambitious emissions-reduction goals. Combining personal narrative with analysis of solar technology deployment in India, Kartikeya Singh provides an illuminating portrait of how politics, capitalism, and energy poverty are combining in strange ways across India. Finally, Jack Barkenbus finds that electric vehicles can help lower greenhouse gas emissions—depending on where and when they're recharged.
These features are accompanied by artwork from the Land Art Generator Initiative's 2016 contest for large-scale art installations that generate carbon-neutral electricity and/or drinking water for the city of Santa Monica, CA. The design proposals featured in Issues showcase the exhilarating potential of artistry and technology in addressing complex problems.
One of these problems is the sorry state of US infrastructure. Christopher Jones at Arizona State University and David Reinecke at Princeton University discuss how the incoming Trump administration can fulfill its campaign promise to revitalize the country's infrastructure while ensuring that the benefits are broadly shared. Other challenges the new administration will face include boosting productivity growth and creating high-paying, high-skill jobs. Gregory Tassey, research fellow at the University of Washington, argues that this type of technology-based growth is best accomplished by investing in national research and development.
Journalist Keith Kloor is familiar to many Issues readers for his widely cited 2014 article that exposed as apocryphal the story that genetically modified cotton was causing farmer suicides in India. In his latest must-read piece for the new issue, he writes about the perils for science journalists in addressing activists' misuse of science in areas like vaccines and genetically modified organisms. In a related essay, Daniel J. Hicks argues that some of these contentious scientific issues are proxies for deeper concerns, such as "the relationship between capitalism and the environment, the meaning of risk, and the role of expertise in a democracy." The scientific enterprise will have to adapt to this contested social landscape if it is to remain a viable source of knowledge, according to philosopher of science Robert Frodeman in the first of a new series of essays, the "Philosopher's Corner."
The winter book reviews jump right into these scientific controversies. Oliver Geden, of the German Institute for International and Security Affairs (SWP), assesses Christopher Shaw's The Two Degrees Dangerous Limit for Climate Change: Public Understanding and Decision Making, calling it "a valuable contribution to the critical debate about global climate targets." Renowned British psychiatrist David Healy tackles the use of antidepressants in a provocative review of Ordinarily Well: The Case for Antidepressants, by Peter D. Kramer. Finally, the Breakthrough Institute's Alex Trembath evaluates Calestous Juma's new book, Innovation and Its Enemies: Why People Resist New Technologies.
This issue also features the haunting artwork of Steve Miller, who x-rayed the flora and fauna of the rainforests, and images from the inventive multimedia artist Doug Aitken.