Summer 2016 Issues in Science and Technology
The latest "Issues in Science and Technology" examines new frontiers of space policy, pricing ecosystem services, dysfunction on the Chemical Safety Board, and more.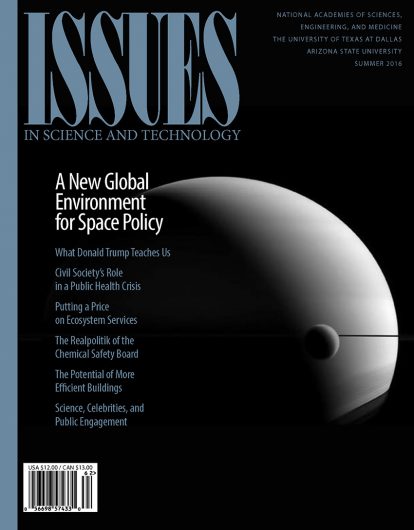 The cover story of the Summer 2016 Issues in Science and Technology is the changing landscape of space policy. Bhavya Lal, a researcher at Washington, DC's Science and Technology Policy Institute, explores how more countries and private companies are increasingly active in space. The United States government must reshape its space agencies and policies if it wants to keep up. According to Lal, cooperation and synergistic partnerships among commercial and governmental entities will be key to this effort.
In light of the current presidential campaign, this issue analyzes the rise of Donald Trump through the lens of science and technology policy. The Massachusetts Institute of Technology's William B. Bonvillian argues that innovation policy in the United States has ignored the manufacturing sector in favor of outsourcing, technological productivity gains, and free trade. The workers who suffered through the resulting decimation of US manufacturing now comprise the core of Trump's support. If policymakers continue to ignore the manufacturing sector and its workers, the consequences will be dire both for the innovation system and for the nation's democracy.
Nor is this merely an issue for innovation policy. According to science policy journalist Colin Macilwain, scientists have taken public funds while failing to build bridges with the public; they have often ignored messy societal problems (which require political engagement) in favor of technical problems; and they have unthinkingly supported the free-market interests of political and economic elites. Scientists who have prospered under these circumstances must confront their role in the political crisis of which Trump is a symptom.
Other pieces in the Summer issue include:
Jay Walker, the chairman of TEDMED, illuminates civil society's central role in preparing for and responding to the next pandemic.
Tufts University School of Medicine assistant professor Beth Rosenberg offers a scorching appraisal of the dysfunction of the Chemical Safety Board, where she served as presidential appointee.
Environmental Protection Agency economist R. David Simpson dissects the flawed effort to quantify ecosystem services in order to create an economic rationale for conservation.
Kristen Koopman, the final winner of our science fiction contest, describes a future conundrum for ethical experimentation in "You're a Mile Away and You Have Their Shoes."
The Summer book review section opens with Mark Schaefer, assistant director of the Office and Science and Technology Policy during the Clinton administration, assessing Science Policy Up Close, a compilation of George W. Bush's late science advisor John H. Marburger's writing, speeches, and interviews. Harry Brammer looks beyond the English-speaking gaming community in an insightful review of the encyclopedic Video Games Around the World, edited by Mark J. P. Wolf. University College London lecturer Jack Stilgoe evaluates The Cunning of Uncertainty by Helga Nowotny, and finds that she "constructs a compelling case for free academic inquiry and the value of serendipity." Last but not least, Wilson Center scholar Eleonore Pauwels reviews A Dangerous Master, Wendell Wallach's book about coping with rapid technological change.
This issue is complemented by the futuristic machine sculptures of Chris Bathgate, abstract landscape paintings by Rebecca Allan, and luminous photos of Saturn from the Cassini mission.