Science, Values, and Democracy
Announcing the newest title in the Rightful Place of Science book series.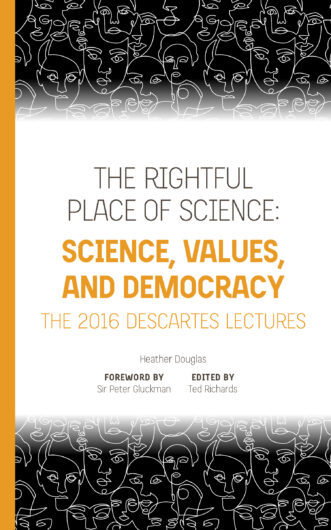 In the latest volume in CSPO's Rightful Place of Science book series, philosopher of science Heather Douglas argues that science requires social and ethical values for both the direction of research and for sound scientific inference. Starting from an embrace of both science and democracy, she takes a close look at how how social values are embedded in the scientific enterprise, how scientific expertise operates in a democratic society, and how the public and the scientific community interact through science communication. Her forceful conclusion from this exploration is that the "value-free ideal" is an inappropriate ideal for science. By better understanding the complex interface between society and science, we can ensure science's rightful place in a democracy.
Each section of the book was initially delivered as a lecture in 2016. With two thought-provoking commentaries on each lecture, Science, Values, and Democracy provides a rich discussion of some of the most complex and pressing challenges of the twenty-first century, including the role and responsibilities of scientists as authorities, the perniciousness of misinformation, and the relationship between scientists and policymakers. Many of these topics have only increased in urgency and relevance during the COVID-19 pandemic.
The author of the landmark Science, Policy, and the Value-Free Ideal, Douglas has helped to shape how we think about the relationship between science and values. In Science, Values, and Democracy, she continues that critical investigation in a book that Sir Peter Gluckman finds "of essential value not only to scholars of the philosophy of science, but also to practitioners at the interfaces between science and policy and science and society."
You can now order Science, Values, and Democracy: The 2016 Descartes Lectures from Amazon as a paperback or ebook. An open-access version of Science, Values, and Democracy is also available.