Science on the Offense
Inclusive, scientific policy key for US to compete globally, says a CSPO-convened panel
February 15, 2023
Krista Hinz, Copy Writer, ASU Media Relations,

[email protected]
On Monday, Jan. 23, an esteemed panel of experts from Arizona State University and the technology and government sectors shared their perspectives on the recent resurgence of U.S. policy that puts science at the core.
The event was hosted by the Consortium for Science, Policy and Outcomes at the ASU Barrett & O'Connor Washington Center in Washington, D.C., as part of the organization's second volume of the Rightful Place of Science speaker series that focuses on policy and governance.
Panelists included:
• David Guston, Julie Ann Wrigley Global Futures Laboratory, Arizona State University.
• Dahlia Sokolov, U.S. House of Representative Committee on Science, Space and Technology.
• Angela Bednarek, Evidence Project, The Pew Charitable Trusts.
Moderated by Arthur Daemmrich, director of the Consortium for Science, Policy and Outcomes at ASU, the candid conversation focused on how new policy tools and anticipatory governance could lead to a more inclusive, robust and globally competitive innovation ecosystem.
According to the consortium, by putting science first when it comes to policy, the U.S. could combat some of the 21st century's most pressing global challenges — from reducing dependence on fossil fuels to ending cancer.
Recent funding for legislation — such as the 2021 Infrastructure Investment and Jobs Act, 2022 Inflation Reduction Act and the 2022 CHIPs and Science Act — are examples of the increased public funding for American-based research and development; something Guston said is key to informing and creating more science-based policy with a real impact.
"We are living in a new reality than we were a decade or two ago in terms of China really emerging as a stronger competitor. China is trying to emulate what we've been doing for a long time in building up their fundamental research and they're making progress," he said.
Guston added that capitalizing on the strengths of different regions around the country is part of a larger picture of investing more in America's ability to compete globally, long term.
"While the U.S. remains an innovative and successful hub for research, there was some realization that we can no longer be complacent, so these discussions started about investing more in technology development. We can not just rely on what we've always done, even though in the past that has served us well," he said.
Some of the other core questions addressed during the event focused on how key elements of the U.S. innovation system — including science-based industries, universities, government labs, the intellectual property system and entrepreneurial communities — can incorporate otherwise ignored communities and minority perspectives.
Sokolov said that America can't expect to excel globally without the consideration of diverse voices across all sectors.
"We see this as an impetus to cultural change in the academic research community and a long-term challenge. No one thinks this is gonna happen overnight," she said. "I would like to see the NSF reach beyond a normal comfort zone because at this point, the academic social science research community is part of their comfort zone."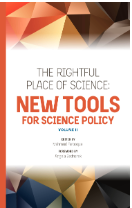 If you would like to learn more, watch the full event recording below and check out CSPO's latest publication in the Rightful Place of Science book  series! New Tools for Science Policy, volume II addresses the urgent need for evaluating and governing emerging technologies. These issues are ripe for participatory and real-time technology assessments to ensure investments are directed at those innovations most likely to be useful to and actually used by the public.
Photos by Charlie Butler.