Fall 2019 Issues in Science and Technology
The latest issue covers sex and sports, kids and social media, chemicals and cancer, and much more.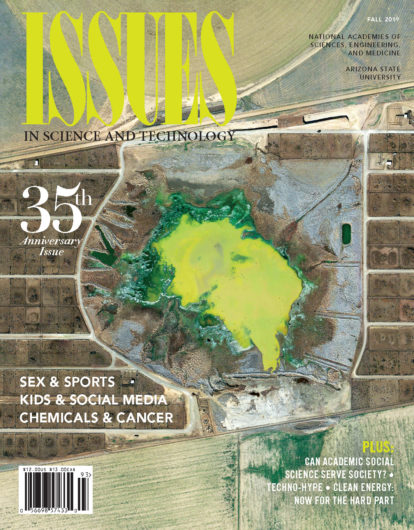 The Fall 2019 Issues in Science and Technology happens to be the 35th anniversary issue. Much has changed since the National Academy of Sciences launched the journal in the fall of 1984, including bringing in academic partners to edit and publish the magazine. Arizona State University now proudly publishes Issues in partnership with the National Academies, and Daniel Sarewitz has taken over from Kevin Finneran as editor-in-chief.
One constant over the journal's three decades has been our effort to make a timely and constructive—and we hope interesting, engaging, and somewhat unpredictable and challenging—contribution to a marketplace of strong ideas that can contribute to the wise steering of scientific and technological decision-making in a democratic society. To that end, in this issue:
Kenneth Prewitt reflects on how to improve the contributions of academic social sciences to social problem solving;
Camille Crittenden explores the positive role of broadband access in the lives of young people;
Roger Pielke Jr. and Madeleine Pape reveal the hidden values that influence science-based decisions in the governance of elite international athletics;
Colin Cunliff prescribes an innovation agenda for getting rid of carbon in sectors of the economy that lie outside standard climate mitigation policies;
Mike Hulme exposes the dangers to democracy that lurk in "climate emergency" politics;
Zach Graves and Robert Cook-Deegan recommend that Congress seek advice on the ethical dimensions of scientific and technological advance;
Geoffrey Kabat argues that getting rid of the weed killer Roundup would do a lot more damage than allowing its continued use;
Jeffrey Funk peers through the data on innovation to see too much hype and too little productivity.
And much more, including Matthew C. Nisbet on how mindfulness has become big business; Amitai Etzioni on the privatization of online censorship; and Cailin O'Connor and James Owen Weatherall on social media propaganda.
In books, Susan Fitzpatrick finds Mind Fixers: Psychiatry's Troubled Search for the Biology of Mental Illness by Anne Harrington to be a "masterful history of psychiatry." In our first fiction review, Eric Trump takes a scalpel to Hubert Haddad's Desirable Body. Gretel Follingstad explores the relationship between science and society in her review of A Tapestry of Values: An Introduction to Values in Science by Kevin C. Elliott. And Shara Bailey examines Tanya M. Smith's The Tales Teeth Tell, the story of human evolution as told through teeth.
Finally, the Fall issue also features the mixed media work of Seth Clark, which finds beauty in deteriorating structures. Mishka Henner uses a variety of technologies to create striking images of industrial feedlots. And photographs from the exhibit On Earth: Imaging, Technology, and the Natural World depict alternative ways of engaging with the environment.