Designing Knowledge
How can organizations create and use knowledge more effectively? Clark Miller and Tischa Muñoz-Erickson provide answers in their new Rightful Place of Science book.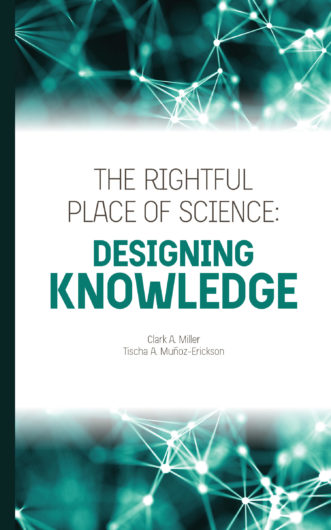 What do Walmart, Exxon Mobil, Apple, Berkshire Hathaway, McKesson, UnitedHealth Group, CVS, Amazon, General Motors, and AT&T have in common? Besides being the most successful companies in the United States, they all have one asset that underlies their immense value as organizations: knowledge.
From innovative designs to consumer purchasing data, from critical scientific research to supply chain protocols, from patented technology to economic forecasts, knowledge is an organization's most important asset. Companies work extremely hard to make sure they have the right knowledge and can apply it profitably.
And it's not just private firms that rely on knowledge. Organizations of any size and complexity—whether a small nonprofit, large government agency, or global institution—depend on managing and using knowledge effectively in order to make decisions, guide strategic planning, and prepare for the future.
But far too few organizations are fully aware and in control of the systems they use to produce, validate, communicate, and apply knowledge. Knowledge failures are both costly and common: just look at the destruction of New Orleans by Hurricane Katrina, the 2008 global financial crisis, or the lead contamination of Flint, Michigan's water supply.
In Designing Knowledge, the newest book in the innovative Rightful Place of Science series, Clark A. Miller and Tischa A. Muñoz-Erickson examine how knowledge is constructed and used (or not used) to develop practical insights for improving organizations' knowledge systems. Miller and Muñoz-Erickson—transdisciplinary scholars of sustainable knowledge system design—provide organizations with the tools they need to design effective knowledge systems for informing critical business, policy, and community decisions.
The historian and futurist Alex Soojung-Kim Pang writes that "Miller and Muñoz-Erickson's Designing Knowledge argues forcefully and convincingly that organizations need to treat knowledge not as facts and formulas, but as practice, expertise, and action. Their principles will help leaders design organizations that are better able to create, and most importantly USE, knowledge." Thomas Higgins, chairman of the biotech startup Prosetta Biosciences, hails Designing Knowledge for its "practical and informed suggestions for managers and consumers of information in a new era."
Buy your copy of this vital book at Amazon today. To stay connected with the research and ideas that went into the writing of the book, visit the Designing Knowledge webpage. Are you interested in contacting the authors or receiving a review copy of the book? Get in touch!