CSPO Graduation Spotlight: John Carter McKnight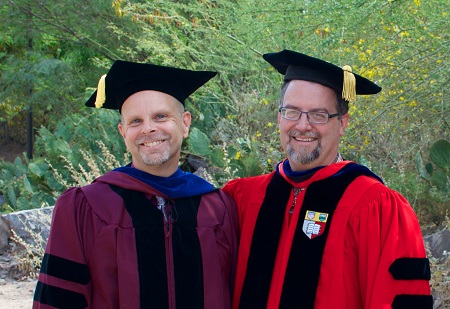 This spring, John CarternMcKnight became the first graduate of ASU's innovative PhD in Human and Social Dimensions of Science and Technology. His dissertation, "The Resilience Engine: Generating Personhood, Place and Power in Virtual Worlds, 2008-2010," integrated theories about the problems and possibilities of innovation in complex socio-technological systems with an in-depth, comparative ethnography of life in two of the Internet's most visible and iconic online communities: World of Warcraft and Second Life. He explains why the Internet does not look today as many of its most important visionaries imagined that it would, even five years ago. It offers insights into why the Internet has largely failed to live up to its hype as a source of new democratic vigor, and suggests that the future prospects for online democracy are dim and will be difficult to achieve unless the configurations of social, economic, and political organization thriving in these spaces can be significantly altered from their current form. Perhaps most importantly, it explores how the social and technical get reconfigured around and through one another, either to promote innovative, resilient communities or to undermine them, offering lessons that may be valuable across the full range of endeavors promoted by ASU to link research to improved human outcomes.
John is an outstanding ASU graduate who is already making his mark on the world. A lawyer by training and profession, he holds prior degrees from NYU, Columbia, and UC Santa Barbara. He is an active participant in online debates about the governance of the Internet, and he sits on the Ethics Committee for the Association of Internet Researchers, which sets ethics standards for the conduct of social research in online communities. For his work, he was the first graduate student appointed to ASU's Lincoln Center for Applied Ethics, where he is the Lincoln Fellow for Ethics in Sustainable Education and Synthetic Reality. In this role, he is the co-founder of the Consortium for Applied Space Ethics, an innovative effort to define the ethical foundations of human life in space, and he recently presented his ideas on this to the European Parliament. He also works with the NASA Astrobiology Institute on questions of the social impact of astrobiology. John is, finally, an avid teacher, having taught a variety of courses at ASU in Internet governance and online games.
The PhD in Human and Social Dimensions of Science and Technology was created in 2008 to provide an interdisciplinary research and training program focused on enhancing understanding and analysis of the complex knowledge enterprises and socio-technological systems that make up contemporary societies. Students in the program are tackling research problems that confront many of today's most pressing challenges: climate change and energy system transformation, the ethical and legal dimensions of ubiquitous information technologies, policies to enhance scientific and technological innovation, educating the next generation of leaders in science and technology, and the relationship between science, technology, and democracy. The program has active cohorts of both early and mid-career researchers, drawing students from top US and global universities and companies.
CSPO congratulates all of its 2013 Spring Graduates.
PhD:
John McKnight – PhD in Human and Social Dimensions of Science and Technology, Spring 2013
Rider Foley – PhD in Sustainability, Summer 2013
Master's:
Spencer Ford – PSMSTP, Summer 2013
Interns:
Jesse Shedd, BS with Honors, Spring 2013
Brian Dorman, BS with Honors, Spring 2013