The Rightful Place of Science: Future Conflict & Emerging Technologies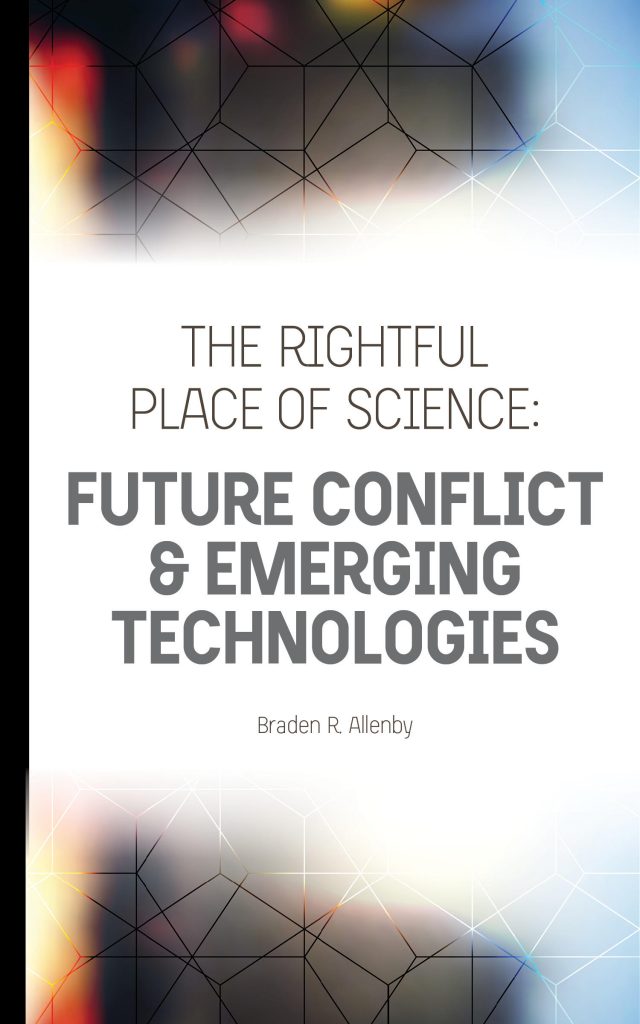 Available September 2016 from Amazon
The fact that technologies are advancing at a dizzying rate is so obvious as to be unremarkable. But the newest technological advances are also having an underappreciated impact on one of humanity's oldest practices: conflict. Emerging technologies are making the world more complex, interconnected, and dangerous—while undermining the tools, institutions, and assumptions that have buttressed thousands of years of strategic thinking about human conflict.
Predicting how this radically new geopolitical environment might play out requires understanding the shifting dynamics of modern conflict. Braden R. Allenby's newest book, The Rightful Place of Science: Future Conflict & Emerging Technologies, provides the necessary guide through this complex landscape.
A leading analyst of emerging technologies in terms of both their military application and their ethical implications, Allenby explores how these new technologies are transforming military and security strategy, making familiar institutions and traditional approaches obsolete. From Russia's recent invasion of Ukraine to the "durable disorder" of the new Middle East, from the digital frontier of cyber conflict to the use of autonomous lethal military robots, Future Conflict & Emerging Technologies offers a concise and readable introduction to the trends shaping our geopolitical present and future.
Buy your copy of this essential book from Amazon.com today.
---
Advance praise for Future Conflict & Emerging Technologies
"Brad Allenby has written a terse, intense, and uncompromising summary of the threats posed by a range of disruptive technological innovations that affect our ability to wage contemporary warfare. Allenby's probing analysis and sensible advice concerning public policy alternatives (such as the reinstatement of universal conscription), when coupled with emerging ethical norms of responsible behavior in fields like robotics and cyberconflict, may effectively counteract the growing tendencies toward social dissolution and moral collapse in the face of these formidable technological challenges."
Professor Emeritus George R. Lucas, Jr., U.S. Naval Academy, visiting professor, Notre Dame University, and author of Ethics and Cyber Warfare (2016)
"Brad Allenby's new book, Future Conflict & Emerging Technologies, is required reading for anyone trying to implement strategy—financial, military, or otherwise—in our complex and rapidly changing world, characterized by competing companies and nations striving to further their interests even as they grapple with an unknowable, deeply challenging future and emerging technologies of unprecedented power."
James Hennessy, former President and CEO of ING Mutual Funds and current Chairman of Waterton Global Resource Management
"New technologies are adopted first by those for whom incremental advantage is critical, which is why in today's world military and security organizations are on the leading edge.   As the pace of technological change increases exponentially, ISIS has figured out how to weaponize social media, China how to game entire societies, and Russia how to hack American elections – and everyone is trying to understand the military implications of gene editing tech.  At such a time of dizzying upheaval, Brad Allenby in Future Conflict & Emerging Technologies brings imagination, wisdom, and much-needed perspective to the daunting but crucial task of ethically, rationally, and responsibly managing conflict and emerging technologies as we move into an uncertain and difficult future."
Professor Joel Garreau, Sandra Day O'Connor College of Law and affiliated faculty at the School for the Future of Innovation in Society, Arizona State University, former reporter and editor at The Washington Post, and author of Radical Evolution (2005)