Study Abroad
CSPO Goes Global – Summer Study Abroad 2014
Sustainable Development Across the Mediterranean:  Morocco and Spain 2014
This May and June of 2014, Mary Jane Parmentier and HSD PHD Candidate Sharlissa Moore once again guided a group of 21 graduate and undergraduate students through Morocco and Spain to study the complexity of sustainable development across two continents. The group met with a range of sectors, from government officials to policy analysts and students, comparing differing needs and perspectives on sustainable development with a focus on renewal energy. In southern Morocco the group stayed with Moroccan students and visited a solar facility under construction and the nearby villages; participated in a camel trek to a camp off the grid; met with the president of an organic apple cooperative in the Atlas Mountains; and continued over the Strait of Gibraltar to southern Spain where they visited Abengoa Solar, the Almeria Solar Research Platform, and the many architectural sites that connect the two regions historically.
Australia + Fiji: Human Dimensions of Sustainability and Health
Jamey Wetmore led the School of Human Evolution & Social Change's study abroad program to Australia and Fiji. Over the course of three weeks the students explored the relationship between environmental change and global health. They explored tropical rainforests, the desert of the outback, the great barrier reef, Australian cattle farms, and the Fijian archipelago. The relationship between people and the environment was put in starkest contrast during an overnight stay in a small Fijian village that has already secured land on higher ground so that each house can be moved as the rising ocean levels that they have witnessed over the past decades make their centuries old land uninhabitable.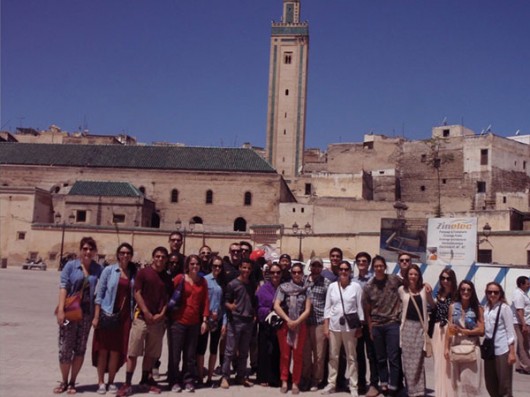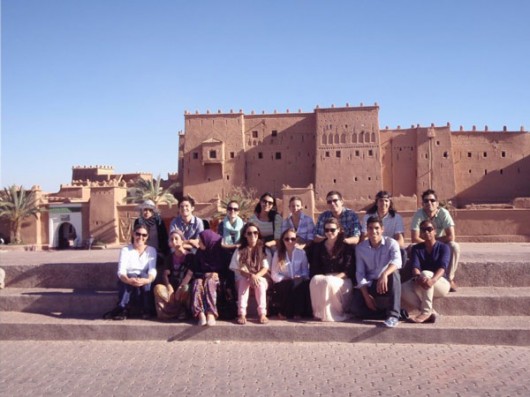 2013
This summer CSPO faculty developed and ran three study abroad programs for ASU's School of Sustainability Global Sustainability Studies Program.
In June, Mary Jane Parmentier, Jamey Wetmore, and HSD PHD Candidate Sharlissa Moore guided 28 graduate and undergraduate students through Morocco and Spain to study solar energy initiatives. The group met with government officials, industry representatives, and NGOs to learn about efforts to develop renewable energy solutions, reflected on justice issues by visiting with Berber nomads, and did an overnight camel trek into the desert to live off the grid.
In late June, Ira Bennett and Jamey Wetmore reconfigured CSPO's Washington DC "Science Outside the Lab" program to include an international component. The 14 students involved spent a week in DC learning how US government policy incorporates ideas of sustainability and then flew across the pond for a second week in London.  In London students had the opportunity to peek behind the scenes in Parliament, meet with representatives from Red Cross/Red Crescent, learn about UK and EU sustainability policy directly from government science advisors, and had a walking tour of London to see how infrastructure was developed to make it possible for 8 million people to live in such a small area.
In July, Mary Jane Parmentier and HSD student Shannon Lidberg led 21 students for a 3 week exploration of Ecuador.  The group studied the fragile and varied landscape of Ecuador by meeting with local officials as well as exploring the natural sites first hand.  They ascended towering mountains, traveled through the Amazon Basin, and visited cultural sites to get a better idea of how people and precious natural environments can coexist.
It is likely that these study abroad programs, or ones like them, will be held again next summer.  Sustainability majors and minors can get financial awards to help defray the costs of the program thanks to the Rob and Melani Walton Sustainability Solutions Initiatives.