News Flashes – October 2016
October, 2016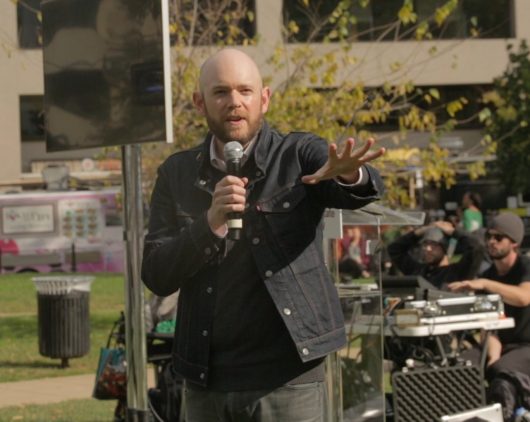 Brian David Johnson hosting townhall event
New institute introduced in D.C. event
ASU President Michael Crow and CSPO co-directors Dave Guston and Dan Sarewitz, gathered with about 100 participants to celebrate the launch of the Institute for the Future of Innovation in Society (IFIS) in Washington D.C. on October 24. This event featured Professor and Resident Futurist Brian David Johnson's ongoing Future of the American Dream Project  (FotAD), which has been holding town halls all over the country to find out what kind of future Americans want — and what kind they want to avoid. There was a public town hall earlier in the day at Washington D.C.'s iconic Farragut Square.
The event was the first of a series of launch events being held by SFIS and IFIS over the course of the next year to highlight some initiatives the Institute will be pursuing. It was attended by Anne-Marie Slaughter, the president and CEO of New America, and visitors from NASA, the US Center for Disease Control (CDC), the National Oceanic and Atmospheric Administration (NOAA), and the National Academy of Sciences (NAS), in addition to guests from academia, social service organizations, government agencies, policy makers, and the media.
During the evening's reception and dinner hosted at New America, Johnson's SFIS colleagues, Lauren Withycombe Keeler and Michael Bennett guided attendees through a tarot game designed by Keeler to elicit visions of a future America. The cards, featuring selected vocabulary terms generated through street interviews conducted by students and expanded by FotAD faculty, were designed to account for a wide range of scenarios that might impact the future of the American Dream. The dinner, emceed by Johnson, was also conducted like a town hall, with guests encouraged to stand up at any time to ask questions about SFIS and the new Institute.
Last year's launch of the School was also recognized. "Since its inception late last year," said Crow, "SFIS has proven to be an exciting and important new initiative where people come together to create the ideas and the tools that can help revolutionize the way we pursue new knowledge and apply it for human benefit." Keeler noted that "in the lead up to this highly contested and vitriolic election, it was important to have this conversation about the American dream while being very civil and listening to one another."
---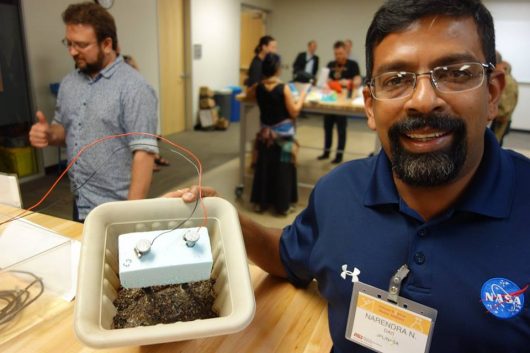 Narendra Das from JPL/NASA. shows the soil moisture sensor he built for less than $30. For more information on the associated project, or to borrow equipment from ASU's library visit https://globescistarter.org/.  Photo by Lea Shanley.
Citizen Science Maker Summit
A summit designed to explore the crossroads of citizen science and the maker movement, the ASU Citizen Science Maker Summit 2016, was hosted by Arizona State University in partnership with SciStarter, at the ASU Chandler Innovation Center from October 26 through October 28. SFIS's Dave Guston, Ira Bennett, and Darlene Cavalier (also the founder of SciStarter) spoke at the event along with a variety of "Makers" and leaders in the citizen science community.
"The Summit was an opportunity for communities to cross-pollinate, learn from each other, and identify potential areas of intersection. In addition to the development of a new SciStarter Citizen Science Tools database to help make these low cost instruments more discoverable and accessible, we learned that Makers and manufacturers of low-cost tools are eager to mobilize and apply their talents to create scaleable solutions to the challenges identified by scientists and citizen science project owners. So…don't be surprised to see an ASU Citizen Science Maker Solutions Lab in the near future!" said Cavalier.
View a video interview on Horizon with co-organizer Micah Lande of the Ira A. Fulton Schools of Engineering.
Read a blog post on the Summit by Trey Lathe, a keynote presenter at the event.
---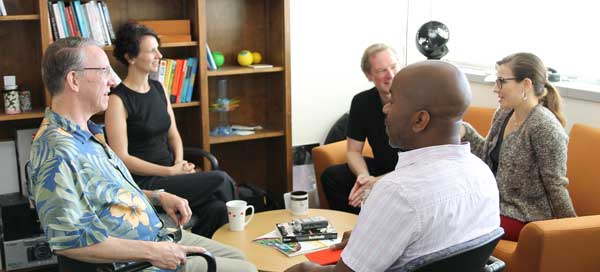 From left, Robert Cook-Deegan, Diana Bowman, Andrew Maynard, Michael Bennett and Heather Ross record a podcast.
FutureThink: New SFIS podcast
SFIS professors Heather Ross and Andrew Maynard have launched a new podcast which broadcasts unfiltered, unedited "hallway conversations" in which experts chat about our collective future and how emerging science and technology affects society. On FutureThink, Ross and Maynard sit down with a variety of experts on and off campus, sharing valuable insights via spontaneous conversations.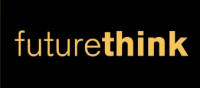 Originally, FutureThink was intended to help introduce SFIS to prospective students but, said Ross, "We're extending out to a much broader audience." Even policy makers and entrepreneurs will have something to learn. "Podcasts really are the best format for that right now," she added. Maynard, who frequently makes Youtube videos for Risk Bites, the channel for his Risk Innovation Lab, said, "The problem with video is you have to dedicate 100% of your time and your attention." Podcasts, by contrast, can be listened to while you exercise, clean, or commute.
Ross drew on many of the podcasts she listened to for inspiration. "When I listen to some of those scripted shows, I never feel like I ever get the inside story," she said. "It's the unedited conversations that are most intriguing. There's no Powerpoint, no script. We ask our guests specifically not to prepare anything." Maynard agreed. "I find it quite compelling," he said. "As faculty, never have the time to talk about all those other ideas swimming around in our heads. This gives us the ability to connect with other professionals in a different way.
FutureThink is airing now on Soundcloud, iTunes, and Stitcher. Fans can also show their support by "liking" FutureThink's facebook page. Shows are projected to air weekly. The first episode is a conversation with computer scientist Adam Doupé about cybersecurity, followed by a chat about elections as knowledge systems featuring SFIS Associate Director for Faculty and STS expert, Clark Miller.
---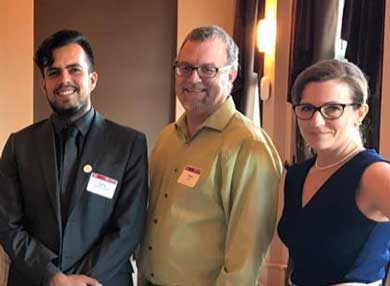 Carlo Altamirano, Clark Miller and Heather Ross at the award ceremony.
HSD Student Awarded Spirit of Service Scholarship
HSD student Carlo Altamirano was awarded the Spirit of Service Scholarship by the Ed Pastor Center for Politics and Public Service in the School of Public Service and Community Solutions. Said Alberto Olivas, executive director of the Pastor Center, "Carlo is a great exemplar of how science and public service can intersect to have tremendous impact." Altamirano, a fifth year PhD student, is also a Fulbright Scholar and co-President of Local to Global Justice, a student-run local diversity, social justice and sustainability initiative.
---

Think Write Publish update
The first training workshop of the Think Write Publish (TWP) Fellowships in Science and Religion project took place Washington, D.C. in October. Mentors worked with 15 Fellows selected from a pool of 650 applicants to develop story ideas, as the leadership team of SFIS faculty Dan Sarewitz and Lee Gutkind and Program Manager Michael Zirulnik and guest lecturers including Herberger Institute for Design and the Arts visiting professor Don Marinelli taught the complexities of creative nonfiction writing and how to best communicate story ideas to a general readership. The group worked in breakout sessions on scene writing; read aloud and critiqued each other's initial efforts; and grappled with the challenges of beginning to frame and structure their stories. Fellows will remain in close contact with mentors as they complete a full draft of their story in time for the second, revision-focused workshop in February.
The 15 Fellows receive $10,000 stipends, access to three training workshops, and the opportunity to expose their work through public events. Five writing mentors, both academics and practitioners, have been appointed to advise them, including Dinty W. Moore, editor of Brevity.
TWP is also offering a writing competition with prizes of $10,000 and $5000 for the winner and runner-up, as well as $500 for honorable mentions. Applications for the contest will be accepted until December 12th.
---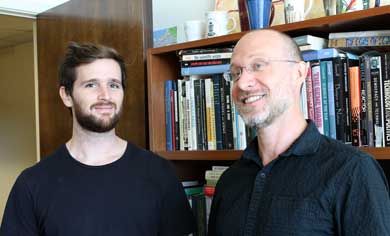 Rob Smith and Erik Fisher
SFIS Alum Leads Team to Top Honors in International Genetic Engineering Competition
CNS Winter School alum Rob Smith helped lead a team of engineering undergraduates from King's College London — a member of CNS' Virtual Institute of Responsible Innovation (VIRI) and partner of ASU through the recently launched PLuS Alliance — to prestigious honors in the annual International Genetically Engineered Machine (iGEM) Competition. The competition is put on by the iGEM Foundation, an independent, non-profit organization dedicated to education and competition, the advancement of synthetic biology, and the development of an open community and collaboration. The team won a number of nominations and awards, including the Grand Prize, Best Public Engagement, and a nominee nod for Best Integrated Human Practices.
As described on the team's Wiki page, they engineered "a genetic circuit that allows ratiometric control of populations in a co-culture to allow future synthetic biologists to realize the full potential of synthetic ecosystems." Smith tapped SFIS' Erik Fisher, HSD chair and editor of the Journal of Responsible Innovation, to advise the team on how to adapt and incorporate Socio-Technical Integration Research (STIR) into their project. The STIR enhances the integration of scientific and societal considerations by means of interdisciplinary collaboration between social and natural scientists. The iGEM team adapted STIR to focus on "problems" as well as decisions," said Smith, "and integrated a cycle of problem-based learning to provide outcomes that they thought would encourage team participation."
---
---
Out and about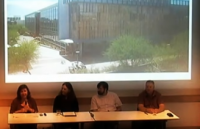 On October 6th, SFIS professor Mary Jane Parmentier, with colleagues from across the university, participated in a panel under the title "Lessons for Today from Greenland & the Americas in the Medieval & Early Modern Period." Climate change in the medieval and Early Modern period played a major role in transforming societies, and it reverberates in our own. The panelists, who represented the humanities, social sciences, and the natural sciences, explored the topic to find out what we can draw from these events to inform how we address current climatological challenges. View video of the panel here.
---

The Expert and Citizen Assessment of Science and Technology (ECAST)  convened and hosted a workshop following a public forum organized by the Environmental Protection Agency (EPA) on October 27. Questions and concerns regarded development of EPA's forthcoming guidance for genetically engineered algae and other future governance on genetically engineered algae. For this workshop, ECAST members at ASU SFIS Mahmud Farooque and Ira Bennett, along with Jason Delborne of the NC State Center for Genetic Engineering and Society collaborated with Julie Shapiro from the Keystone Policy Center to consider a variety of potential applications of genetically engineered algae: energy, agriculture, natural resources, and medicine.
---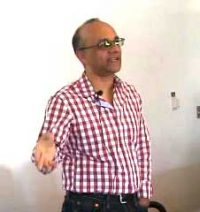 Professor Mahmud Farooque spoke at an enLIGHTeNING Lunch on "Democratization of Technological Governance: This is Not Your Mother's pTA." Despite early interest and successful pilots, the Expert and Citizen Assessment of Science and Technology (ECAST) initiative struggled for notice until a chance to partner with NASA launched them into the national spotlight. Farooque's presentation told ECAST's story and gave some insights into how the pioneering project operates. View video of the talk.
---
SFIS professor and Risk Innovation Lab Director Andrew Maynard was the keynote speaker at the closing session of the American Industrial Hygiene Association's (AIHA's) Fall Conference on Leadership and Management. In his presentation, titled "Risk Innovation and the Workplace of the Future," Maynard "explored how risk innovation thinking can help ensure the workplace of the future remains safe and responsible."
---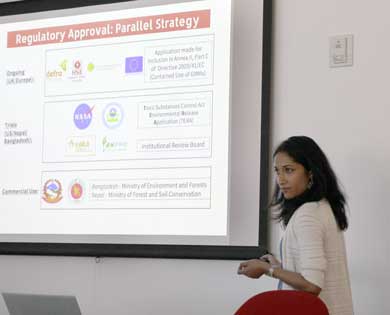 As part of a project funded by National Science Foundation, The Virtual Institute for Responsible Innovation (VIRI) is sponsoring a series of talks by early career researchers from VIRI partner sites to provide the opportunity to engage with ASU faculty and students and present their research work to the ASU community. Lalitha Sundaram of King's College London visited ASU to deliver a presentation on the incorporation of Responsible Research and Innovation (RRI) techniques in the development of a synthetic biosensor to detect dangerous levels of arsenic in drinking water. The World Health Organization has called arsenic poisoning "the largest mass poisoning of a population in history." It is estimated that 100 million people are at risk and 43,000 die as result of contaminated drinking water every year. King's College is a partner in the newly launched PLuS Alliance with ASU and UNSW in Sydney and a member of VIRI, which was initially launched as a project of the Center for Nanotechnology in Society (CNS). View the talk here.
---
To celebrate its 50th anniversary, Fanshawe College in Ontario hosted its first ever RED Talks event on Oct.19, featuring SFIS futurist Brian David Johnson. Johnson's talk focused on the future of education: "What it means to educational institutions, what it means to the cities and the communities where they live," Johnson elaborated in a recent Interrobang article, "and also what it will mean to the people that live and work and go to those schools and live in those communities." See an overview of Johnson's RED Talk from CTV News London.
---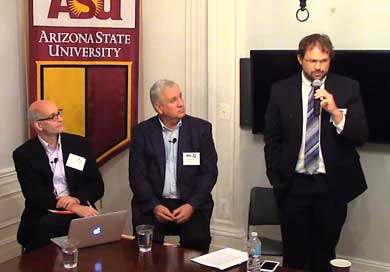 From left: Paul Tarini, William Riley and Eric Hekler
The third talk in CSPO's Fall 2016 New Tools series, "The Illusion of Average: Renewing Research Infrastructure," took place October 21 at ASU's Washington Center. Eric B. Hekler of ASU's School of Nutrition and Health Promotion served as moderator for "When Differences Matter: Implications for Research Infrastructure in the Age of Personalization," a conversation between the National Institute of Health's Bill Riley and Paul Tarini of the Robert Wood Johnson Foundation. Video for the talk is available here and those interested can watch the previous New Tools talks by following the links below:
Talk 1: Implications for Scientists highlights / full video
Talk 2: An Open Science Approach to Research highlights / full video
---
In the media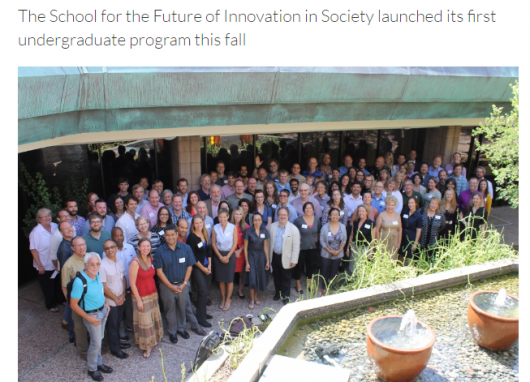 The ASU State Press published an article charting SFIS's course from four-person think tank to top notch graduate and undergraduate degree-granting school. The article includes an interactive timeline and slideshow, as well as commentary from Director Dave Guston, Director of Fiscal and Business Operations Lori Hidinger, and student Carlo Altamirano.
---
As reported by Genome Web, a recent negligence suit against Quest Diagnostics prompted the National Academies of Sciences, Engineering, and Medicine's Committee on Science, Technology, and Law (CSTL) to invite genetics and legal experts to sound off on liability issues. SFIS professor and science policy expert Robert Cook-Deegan, along with Harvard's Heidi Rehm, suggested that better system for test providers and researchers to share information on the relationship between genetic variants and diseases is needed, along with better standards on how results should be reinterpreted and updated. There is a possibility that this procedure, convening a committee of experts for input on genetic variant data sharing, might become common practice.
---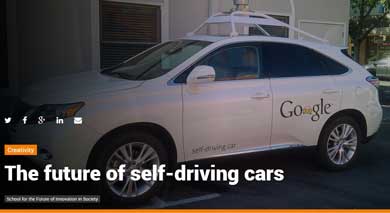 Professor Andrew Maynard was interviewed for a Q & A with ASU Now and a radio piece with BYU Radio on "the Future of Self-Driving Cars." Maynard said that making predictions about the uptake of new technologies is incredibly difficult. Still, he said, "We know from the past that you have these sort of transformative changes where nothing seems to happen for years and years, then all of a sudden everything comes together." Maynard noted he wouldn't be surprised to see a substantial autonomous vehicle market as soon as five years from now.
---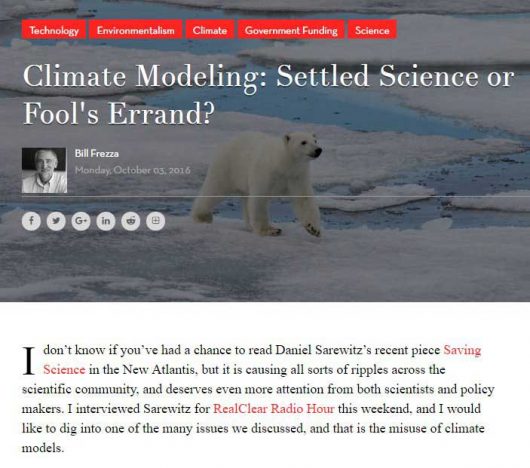 CSPO co-director Dan Sarewitz made waves in the scientific community with his article "Saving Science" in a recent issue of The New Atlantis. Bill Frezza, a fellow at the Competitive Enterprise Institute, had Sarewitz as a guest on his radio talk show,  to discuss the article and to drill more deeply into an issue that came up in the article —  the misuse of climate models. Frezza's commentary on their conversation was published online by ValueWalk and the Foundation for Economic Freedom.
---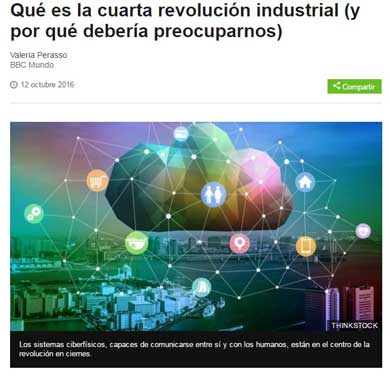 Graduate research assistant and HSD student Elizabeth Garbee was tapped for comment on the controversial notion of a Fourth Industrial Revolution in a recent article by BBC Mundo (in Spanish). "Enthusiasm is not unjustified," said Garbee. But enthusiasm alone does not justify innovation. "History is full of examples of how technology passes over the social, ethical and political frameworks we need to make good use of it."
First Annual Report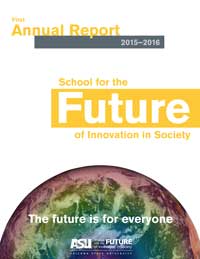 The School for the Future of Innovation in Society's first Annual Report features a tour through one of ASU's newest and most innovative schools. The report features faculty, staff, students, and alumni, offers a timeline detailing the origins of SFIS, and highlights some of our pathbreaking research projects. It is available on the SFIS website by digital download.
---
Publications
SFIS HSD student and Director of Strategy for ASU's Global Security Initiatives, Jamie Winterton authored this opinion piece for the Christian Science Monitor. Acknowledging that "security concerns at the polls have reached an all-time high," Winterton called for cool heads and temperance. "It's critical that we talk about the issue reasonably and avoid exaggerating the damage of certain types of digital intrusions," she said. Winterton doesn't deny the risks though. "We have to upgrade our technology," she wrote. "Ensuring the security of our election systems will be costly … but it's something that we must do."
---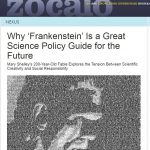 Joey Eschrich, Editor and Program Manager for the Institute of the Future of Innovation in Society's (IFIS) Center for Science and the Imagination, published an article for Zocalo: "Why 'Frankenstein' is a Great Science Policy Guide for the Future." Besides praising the story's longevity and prescience, Eschrich said, "Frankenstein is a nuanced exploration of scientific ethics and the dynamic between scientific creativity and social responsibility." Also mentioned is the Frankenstein Bicentennial Project at ASU, which will include "museum exhibits, panel discussions, and other projects as well as publishing a new edition of Frankenstein tailored for emerging scientists, and engineers.".
---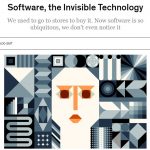 The "cannibalization of software" is the tantalizing topic of SFIS professor Gregg Zachary's latest article in IEEE Spectrum. In "Software, the Invisible Technology," Zachary tackles a paradoxical reality: "Even as software grows in importance," he said, "code becomes less visible, less tangible, less understood, and — perhaps most paradoxically — less valuable in monetary terms."
---
SFIS postdoctoral researcher Michael Bernstein, professors Ira Bennett and Jameson Wetmore, along with affiliate Kiera Reifschneider, published "Science Outside the Lab: Helping Graduate Students in Science and Engineering Understand the Complexities of Science Policy" in Science and Engineering Ethics. The authors present a program "that helps scientists and engineers make inroads into macroethical debates, reframe the ways in which they think about values of science and engineering in society, and more thoughtfully engage with critical mediators of science and society relationships: policy makers and policy processes."
---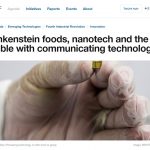 SFIS professor and Risk Innovation Lab director Andrew Maynard published an article for the World Economic Forum titled "Frankenstein foods, nanotech and the trouble with communicating technology." The article purports that problems related to society's acceptance of a new technology does not always call for an educational solution. "For a new technology to be accepted and adopted within society," Maynard wrote, "communities that are potentially impacted by it need to understand the benefits and risks to them, and how they can play a role in increasing the former while reducing the latter."
---
Twelve stories from Climate Fiction Short Story Contest are collected in "Everything Change," a new fiction anthology from Arizona State University's Imagination and Climate Futures Initiative (ICF). ICF is a partnership among the Rob and Melani Walton Sustainability Solutions Initiatives, the Virginia G. Piper Center for Creative Writing, and the Center for Science and the Imagination within the Institute for the Future of Innovation in Society (IFIS).
---
---
Occasional Talk with Ricarda Scheele
VIRI Visitorship talk with June‐Seok Lee
---
Sun Devil Rewards App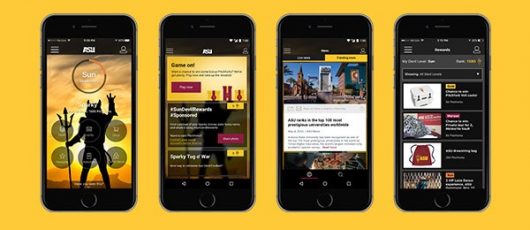 Use this link to download the brand new and interactive ASU Sun Devil Rewards app. You could win VIP upgrades, exclusive ASU swag, and even tickets by participating in trivia, cool polls, and fun surveys.