News Flashes – November-December 2016
November & December, 2016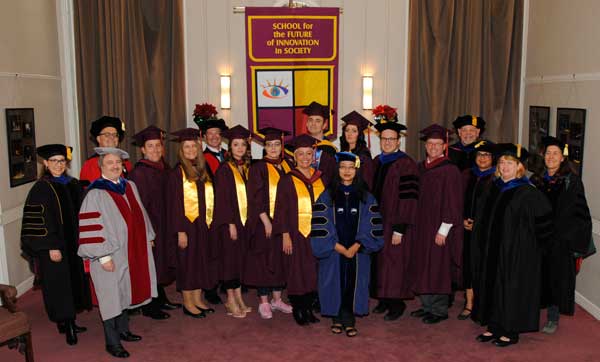 Heartiest congratulations to the School for the Future of Innovation in Society's third graduating class! At the convocation ceremony on December 12 at the Lyceum Theater, SFIS honored 31 graduates. We have high hopes for these change makers to help guide the world toward a better future. View a series of slides and video of the ceremony in our online gallery. The graduates are listed below:
Master's Degrees
Applied Ethics and the Professions (Biomedical and Health Ethics)
Samuel Beger
Justin Jackson
Global Technology and Development
Natasha Alavi
Alexander Berry
Leslie Calle
Michael Fountain
Peter French
Kimberly Fuller
Victoria Hooper
Anna Laird
Jordan Lewis
Tom Marentette
Sara Miles
Nasim Norrisromine
Alexa Patterson
Matthew Pimentel
Robert Pino
Jeramey Reamer
Matt Schmidgall
Julia Stolfa
Sonia (Cheri) Varnadoe
Joe Yi
Science and Technology Policy
Kelly Goodman
Alex Redkin
Brandon Riddle
Margot Thomas
Doctoral Degrees
Human and Social Dimensions of Science and Technology
Denise Baker
Monamie Bhadra
Michael Burnam-Fink
Jathan Sadowski
---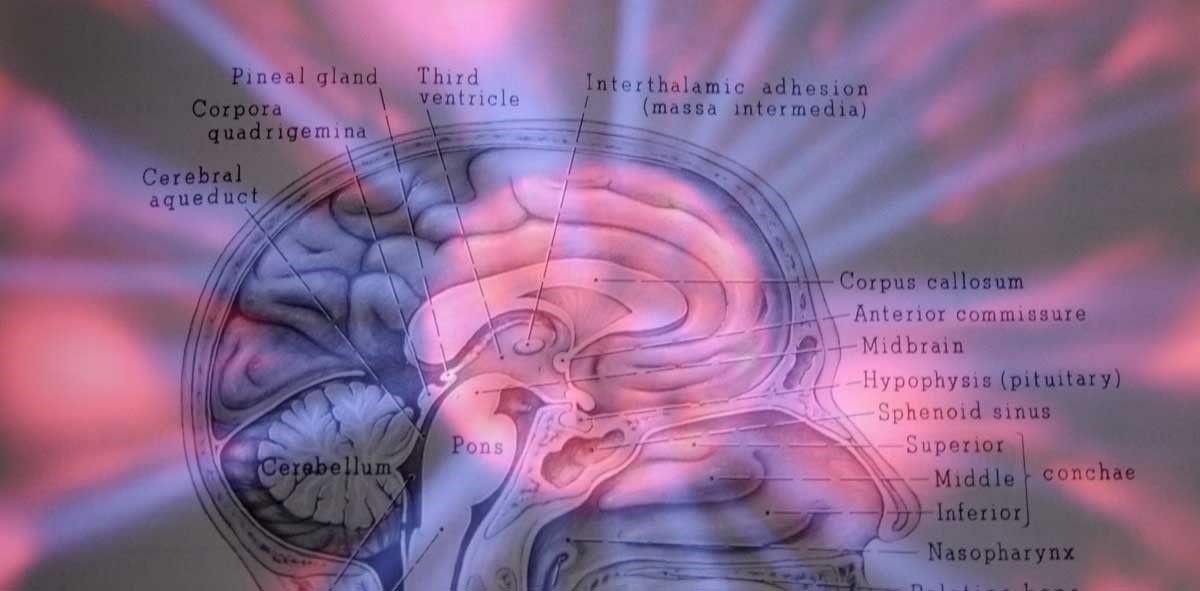 Professor Diana Bowman co-authored Neurotechnology and Society: Strengthening Responsible Innovation in Brain Science, a report on the workshop under the same name convened by the Organization for Economic Co-operation and Development (OECD), ASU, and the National Academy of Sciences, Engineering, and Medicine in Washington, D.C. September 15 and 16. The workshop sought to address "major gaps in our understanding of how the brain functions in health and in disease." Participants identified approaches that could improve development toward favorable technological outcomes without losing sight of "ethical, legal, and social questions that, if not adequately addressed, could undermine the uptake of safe and effective interventions." Read more.
---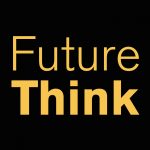 Faculty members Heather Ross and Andrew Maynard have added a substantial collection episodes of Futurethink, the new podcast launched in the fall featuring conversations with experts about our collective future and how emerging science and technology affects policy and society. They sat down with ASU faculty members to discuss the following (links are to SoundCloud, episodes also available on iTunes, and Stitcher):
---
Recognition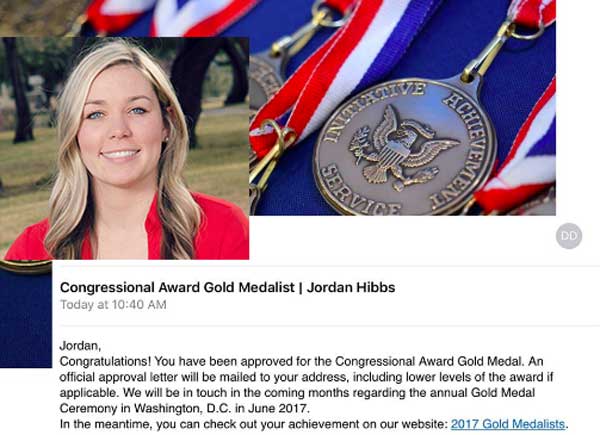 Congressional Gold Medal
Alumna Jordan Hibbs was awarded a Congressional Gold Medal for voluntary service, personal development, and other metrics. "After almost 3 years of public service and personal development," Hibbs wrote on Facebook, I am very excited to be receiving The Congressional Award Gold Medal! Looking forward to the award ceremony in June 2017!"
---
IEEE Leadership
Joe Herkert, a retired SFIS faculty member, is a co-recipient of the 2016 IEEE Division VI Distinguished Leadership Award for his work in propagating the Field of Interest of a Division VI Society throughout IEEE. Herkert and co-recipient Greg Adamson, both from the IEEE Society on Social Implications of Technology, have been active in the volunteer leadership of the IEEE TechEthics program.
---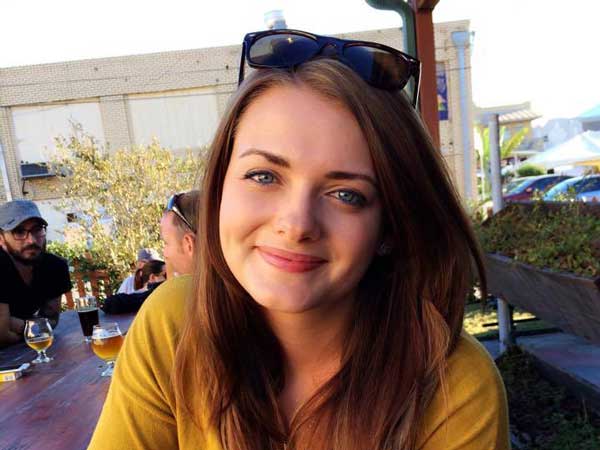 Anna Laird, a December graduate from the Global Technology and Development master's program, was chosen as the student speaker at SFIS' convocation and featured in a series of profiles about outstanding ASU graduating students. Her compelling speech can be heard on the video of the convocation ceremony.
---
Out & About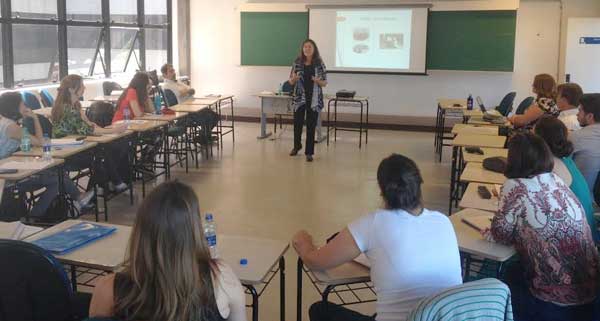 Mary Jane Parmentier, SFIS Clinical Associate Professor Mary Jane Parmentier participated in a workshop entitled Food Security and its Interfaces with Agricultural Policy, the Market and Bioenergy at the Federal University of Parana (UFP) in Curitiba, Brazil. She also led a faculty and graduate student seminar: Perspectives on Sustainable Development from the Global North and the Global South. The workshop was organized by UFP Assistant Professor Wellington Pereira, a visiting scholar at CSPO in 2014. Common themes emerged between Brazil and the U.S., such as the growth of mechanized systems of agriculture controlled by big business, and the displacement of local farming and products; though in Brazil 70% of food consumed is still grown domestically. Follow this link to read an article about the event and Parmentier's visit in Curitiba's local news.
---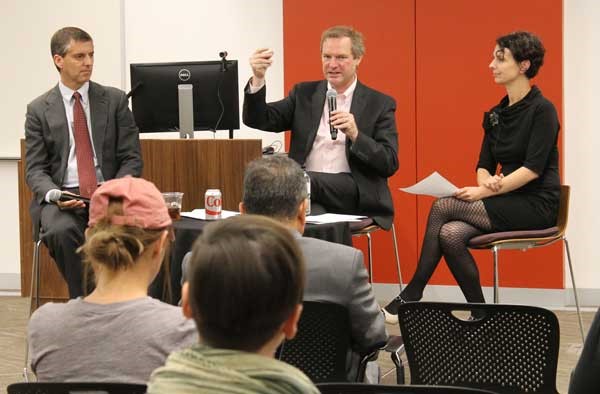 A new season of talks in the Future of X series was kicked off by a conversation between SFIS Professor and Risk Innovation Lab Director Andrew Maynard and James Hodge, Lincoln Professor of Health Law and Ethics at the Sandra Day O'Connor College of Law. The topic was the Future of Zika virus, and more broadly about "a whole range of both technological challenges around public health but also the public health landscape going forward." SFIS Professor Diana Bowman mediated the discussion. Video can be seen here.
---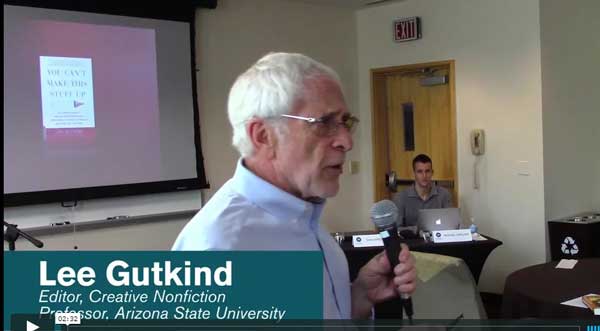 Video coverage of the first in a series of three intensive Think Write Publish — Science & Religion workshops devoted to the craft of writing narrative nonfiction as well as to the skills of publishing narratives in outlets that reach a broad general readership is available here. Fifteen narrative writing Fellows of the Templeton funded project are part of a new community of storytellers who will write, publish, and disseminate engaging and inspiring nonfiction narratives of harmonies, reconciliation, and even productive interaction between science and religion.
---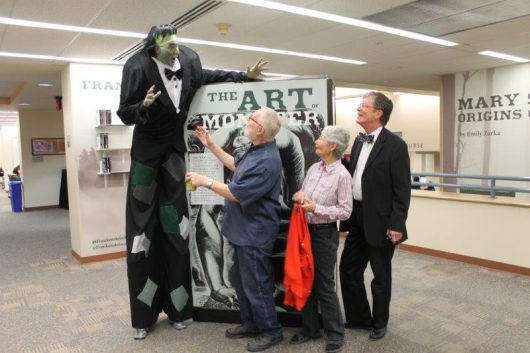 ASU is the hub of a global project to observe the 200th anniversary of the writing and publishing of Mary Shelley's "Frankenstein," a cautionary tale that still exerts influence over science and innovation today. The Frankenstein Bicentennial Project, conceived and launched by SFIS Director Dave Guston and Ed Finn, Director of the Center for Science and the Imagination (CSI), brings together multiple disciplines across several institutions and creates bridges between academic and artistic communities. The "Frankenstein 200" exhibit was housed for more than three months at ASU's Hayden Library, which receives an average of 10,000 visitors each day. The exhibit used the Frankenstein trope as a lens to examine complex relationships between science, technology, ethics and society. The installation, curated by Bob Beard of CSI, engaged attendees through public events such as school field trips, book club meetings, film festivals, scientific demonstrations, writing and art competitions, publications and workshops. A reception and themed workshop celebrated the exhibit on November 1. ASU Now and KJZZ 91.5 covered the exhibit in detail in September. More information is available on CSI's and ASU Libraries' websites.
---
Bilal Malik and Nafeesa Irshad, Master's exchange students visiting ASU during the past semester, graduated from the U.S.-Pakistan Center for Advanced Studies in Energy (USPCAS-E) training program. USPCAS-E promotes research relevant to Pakistan's energy needs, produces skilled graduates, and grows ASU's capacity to address energy transitions in various cultural contexts. SFIS Associate Director for Faculty Clark Miller was their advisor while HSD PhD student Carlo Altamirano acted as their liaison.
---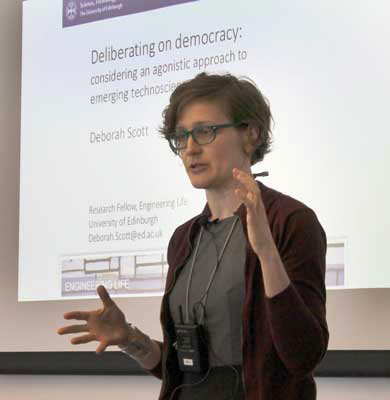 Deborah Scott, a Research Fellow with Engineering Life at the University of Edinburgh visited ASU to deliver a presentation in SFIS's series of Occasional Talks on the theme of Deliberating on Democracy: an agnostic approach in regards to emerging technologies. Scott expounded on how Responsible Research and Innovation (RRI) works in the context of synthetic biology, the field she specializes in. View a video of the talk here.
---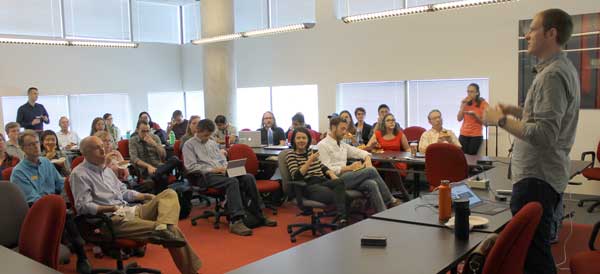 Ed Finn, Director of the Center for Science and Imagination (CSI) at ASU, discussed "Imagination in Action" on November 16 in an SFIS-sponsored EnLIGHTeNING Lunch. Finn detailed the thinking behind CSI by presenting two of its central projects: Hieroglyph and Frankenstein 200. Video of the talk is available here.
---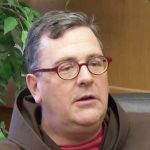 Keith Warner, director of the Global Social Benefit Institute (GSBI) at the Miller Center for Social Entrepreneurship at Santa Clara University, was a guest speaker this month, hosted by SFIS. GSBI has provided capacity development services for 600 social entrepreneurs in more than 60 countries over the past 15 years. Warner, a Franciscan, engineer, and theologian, spoke on "Enhancing energy access and climate resilience through social entrepreneurship" on December 1.
---
On December 6, ASU and SFIS hosted guest speaker Ricarda Scheele. Scheele is a doctoral student at the Research Center for Interdisciplinary Risk and Innovation Studies (ZIRIUS), University of Stuttgart and a visiting student at the University of Oxford. In her presentation, "Along the life path of energy scenarios: Enhancing scholarly conversations about scenario plausibility end user perspectives," Scheele proposed that "by considering the life path of energy scenarios as the unit of analysis, we can better follow the trajectories of plausibility and understand its implications." (Video coming soon in the SFIS online gallery page.)
---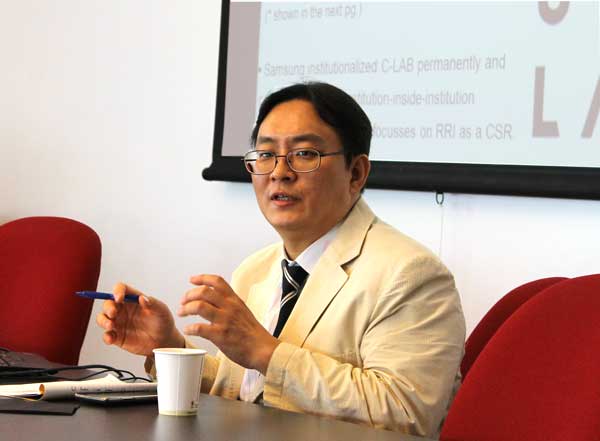 June-Seok Lee visited ASU to speak as a guest of the Center for Nanotechnology in Society's Virtual Institute of Responsible Innovation (VIRI). Lee's talk, "EyeCan: Corporate Research, Appropriate Technology, and Responsible Innovation," discussed Samsung's establishment of C-LAB (Creative Lab), which allowed company innovators, originally working on their own time, to complete the development of Eyecan, an affordable eye mouse for visually impaired users.
About VIRI: The Virtual Institute for Responsible Innovation (VIRI) is an international network of 28 academic and institutional partners created to accelerate the formation of a community of scholars and practitioners who, despite divides in geography and political culture, will create a common concept of responsible innovation for research, training and outreach, contributing to the governance of emerging technologies.
Investment
What a whirlwind of activity we have witnessed during our first year and a half as a school at ASU!
The momentum has been breathtaking, and lots more is coming down the pike…with your help.
Take a look at our Annual Report for a summary of just one year's accomplishments: Starting with the evolution of the Consortium for Science, Policy & Outcomes (CSPO) into the School For the Future of Innovation in Society (SFIS) in August 2015, with its highly regarded graduate programs, we moved on to unveil a unique undergraduate program, expand special programs like Science Outside the Lab in Washington D.C. and our popular Winter School, and lay out a smorgasbord of transdisciplinary, use-inspired research led by a growing number of world class faculty.
It is with the goal of advancing this exemplary body of research and our remarkable academic programs in pursuit of producing positive real world outcomes that we ask for your support. Please consider a gift to help build the infrastructure of an enterprise that is in the vanguard of positive change at ASU and the wider world. Join us in building a future for everyone. Invest today.
---
Publications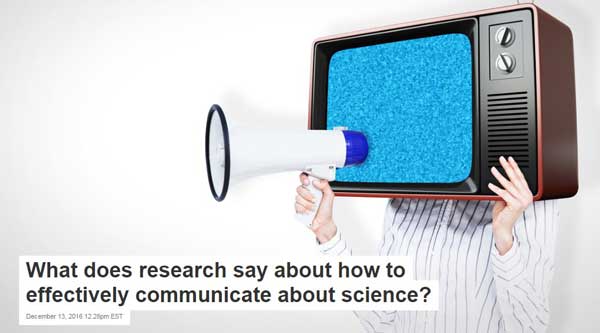 The National Academies of Science, Math, and Engineering released a new report: Communicating Science Effectively. SFIS Professor and Risk Innovation Lab Director Andrew Maynard was on the committee that produced the report and CSPO Co-Director Dan Sarewitz also had input. Maynard co-authored an accompanying piece for The Conversation, highlighting some of the important issues that arose such as using a systems approach to science communication and considering the importance of social media.
Dan Sarewitz also authored "Science and innovation policies for Donald Trump," an article for Nature, outlining ways a Trump presidency could "mobilize smart and creative science and innovation policies" that would help the middle class regain its footing. Sarewitz acknowledges the worrying potential outcomes of Trump's election, but he maintains some optimism: "As a political outsider, (Trump) is less beholden to constituencies that would limit the political options of more-mainstream candidates on both sides," wrote Sarewitz. "As such, his presidency at least has the potential to open up productive new policy pathways."
---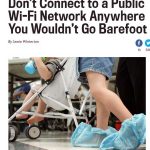 Jamie Winterton, SFIS/HSD doctoral student and Director of Strategic Research Initiatives for the Global Security Initiative, wrote a piece in Slate: FutureTense on the cybersecurity risks associated with connecting to open wifi networks in public places like the airport. In Don't Connect to Public Wifi Anywhere you Wouldn't Go Barefoot, Winterton describes "Man in the Middle" attacks and recommends simple and cost effective virtual personal networks (VPNs) as a defense strategy.
---
CSPO affiliate Arnim Wiek, SFIS Post-Doctoral Researcher Michael Bernstein, and University of Virginia professor and CNS affiliate Rider Foley co-authored "Towards an alignment of activities, aspirations and stakeholders for responsible innovation," a new research article appearing in a journal edited by SFIS's Erik Fisher, the Journal of Responsible Innovation. The article addresses the "dilemma of control" in governance of technological innovation.
---
Professor Darlene Cavalier and Program Manager Jason Lloyd, wrote a piece for Slate: Future Tense titled "The Important Lesson Scientists Could Learn From Trump's Victory" encouraging professionals to engage in a meaningfully way with people who are not experts in their field.
---
Media Mentions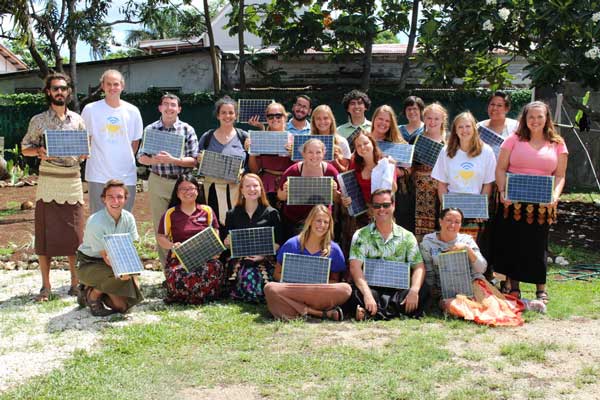 SFIS Professor Laura Hosman's project to deliver 25 SolarSPELLs (Solar Powered Educational Learning Libraries) to students in the Pacific island nation of Tonga was covered by ASU Now. SFIS student worker Amanda Taylor accompanied her on a recent excursion to Tonga to document the project with video.
---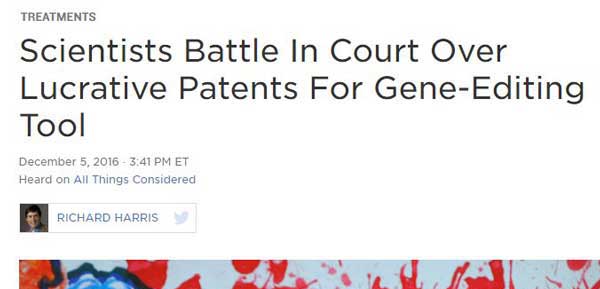 Robert Cook-Deegan was quoted in an NPR article by Richard Harris, who spent a year as a visiting scholar with CSPO, on the heated legal battle over the lucrative CRISPR-cas9 patent. CRISPR-cas9 is a high-precision gene editing technology that could become the most valuable biotech of all time. Cook-Deegan said that "regardless of how this legal battle comes out, academic researchers can still use the CRISPR technology without worrying about ownership rights, 'but if you're doing any research that might eventually be commercially valuable well, then you've got a problem.'" He was also quoted in Nature and Science regarding his impressions of the case as well as the contenders' representations.
Cook-Deegan was also quoted in an article for Science, "Here's Some Advice for you, President Trump, from Scientists." Under the new administration, he conjectured, "Science won't get much attention, except when it gets in the way or bolsters support for a political priority." Cook-Deegan was quoted in the same spirit in "They may not like it, but scientists must work with Donald Trump," published by the Guardian and a blog post on Plos.org titled "The TRUMPets have sounded, and it's nearly all bad news for science and medicine."
Bio-IT World reviewed a paper co-authored by Robert Cook-Deegan, and published in PLOS Biology describing international resistance to the prospect of sharing genomic data across national borders. The most compelling argument for global genomic data sharing," said the Bio-ITWorld writer, "is that it will enable the best science, and ultimately the greatest contributions to human well-being."
Genomeweb also noted Cook-Deegan in a recap of recent patent decisions in bioengineering and health.
---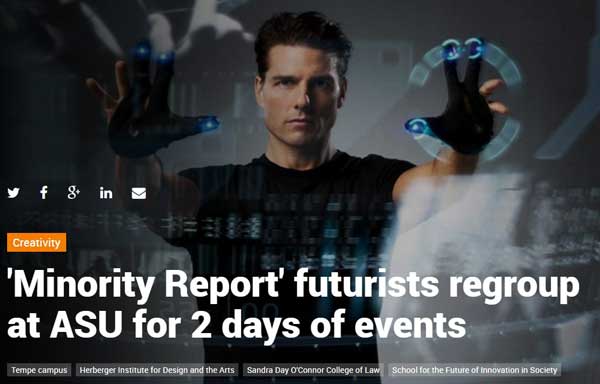 IFIS's Center for Science and the Imagination (CSI) was one of six groups collaborating to put on a two-day event reuniting the creative minds behind the reality-inspired sci-fi world of 2002's Minority Report. This group of futurists were brought together by a student-run organization called Hollywood Invades Tempe for the purpose of imagining the world of 2066, in which education is free and accessible to all. Whether that world is a utopia or a dystopia depends on the imaginations of the people living today. "In order to create the future we need to have visions and stories about that future," said CSI Assistant Director Ruth Wylie. "That's something futurists can do. We need to imagine something before we can build it." For more details, please read ASU Now's article about the event.
---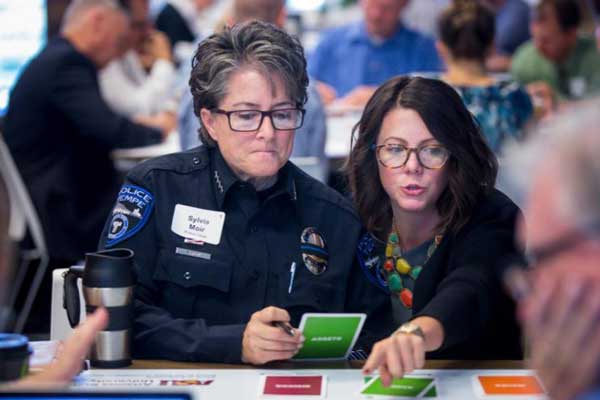 ASU Now reported on Professor Lauren Withycombe Keeler's "Future Shock and City Resilience" game. The game was used in a scenario-planning workshop attended by the top forty decision makers in the Tempe city government. The workshop aimed at training city officials for decision making in times of crisis, highlighting sustainability values like collaboration and equity. "Games are really helpful at getting people to develop skills quickly," Keeler was quoted as saying. "We learn best when we're having a good time."
---
SFIS faculty affiliate Jacqueline Hettel spoke with KJZZ radio about a United States Department of Energy initiative investing $21 million in 17 projects across the country intended to find ways to increase the rate of solar energy technology adoption at the residential level. Hettel, who is heading up one of the projects as co-PI with Professor Clark Miller, said, "A lot of our focus has been on what are the economic factors of getting people to want to adopt solar tech. We haven't focused on the additional, personal soft costs that are difficult to monetize but, historically, are the real driving factors."
---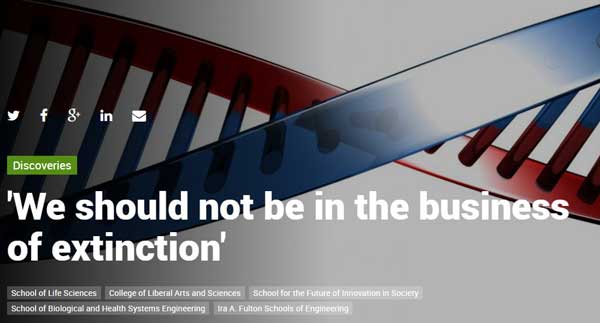 An in-depth ASU Now article on gene drive technologies, CRISPR and Cas-9, quoted SFIS faculty members Emma Frow and Andrew Maynard. While the article engenders some hope, as the scientific community is taking steps to anticipate the rise of complications resulting from these technologies, Frow and Maynard emphasized the dangers of gene drive tech in the hands of the uninitiated and the uncertainty of co-opting a natural force for unnatural use.
---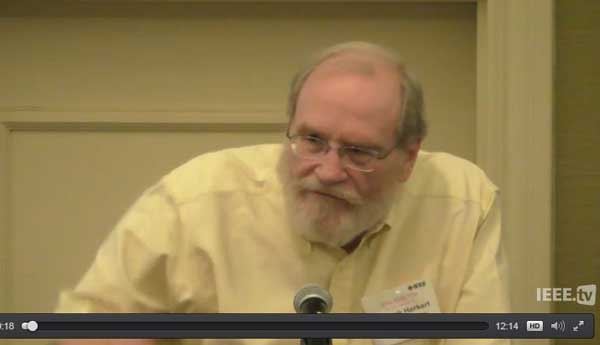 Joe Herkert was an invited panelist on the "Tech Superstars Panel" at the 2016 IEEE Technology Time Machine Conference in San Diego in October. His talk, "Ethics and Emerging Technologies," can be viewed online.
---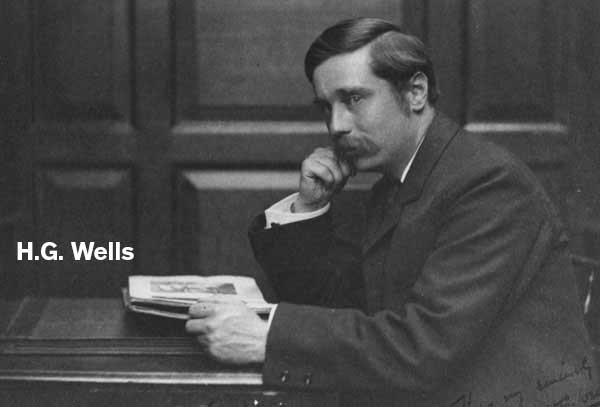 Bob Beard and Joey Eschrich of IFIS's Center for Science and the Imagination (CSI) were interviewed by KJZZ 91.5 radio regarding the recent publication of a long-forgotten short story, "The Haunted Ceiling," by H.G. Wells, the Victorian author of "The Time Machine" and "War of the Worlds."
---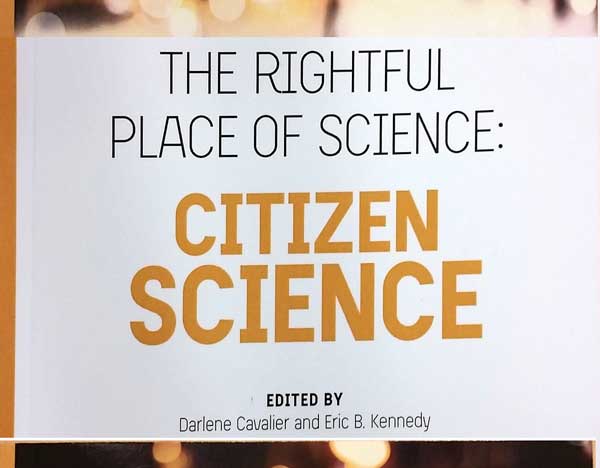 As part of the benefits Sigma Xi, the Scientific Research Community, is offering with the Affiliates Circle membership opportunity for citizen scientists and young researchers, members will receive a discounted copy of The Rightful Place of Science: Citizen Science book, edited by SFIS Professor of Practice Darlene Cavalier, and Graduate Research Associate Eric B. Kennedy.
---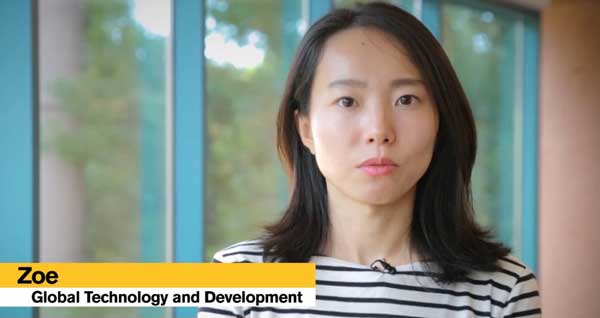 A student in SFIS' Master's in Global Technology and Development program, Ziyue "Zoe" Wang, was featured in this video highlighting diversity at ASU.
---
Upcoming Event
Emerge 2017 – February 25
Mark your calendars for SFIS' signature event, and join us on the Tempe campus during ASU's Night of the Open Door for music, art, performance, debate, monsters and more! Emerge 2017 is an art, science and technology festival that explores new forms of scientific and creative responsibility in the 21st century.
Take a look at the exhibits we've got lined up already–and check back for updates and registration.
Check the SFIS website calendar for more events throughout the semester.